Name: Slobodan Santrač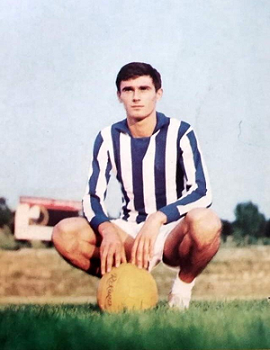 Country:
Serbia
Club: OFK Beograd
Position: *
CF
Side: RF/BS
Age: 22-27 years (01/07/1946)
Height: 171 cm
Weight: 66 kg
Attack:
91
Defence: 32
Balance:
79
Stamina:
78
Top Speed:
85
Acceleration:
88
Response:
97
Agility:
85
Dribble Accuracy:
77
Dribble Speed:
79
Short Pass Accuracy: 72
Short Pass Speed: 69
Long Pass Accuracy: 68
Long Pass Speed: 68
Shot Accuracy:
92
Shot Power:
80
Shot Technique:
88
Free Kick Accuracy: 67
Curling: 72
Header:
87
Jump:
84
Technique:
79
Aggression:
97
Mentality: 74
Keeper Skills: 50
Team Work: 71
Injury Tolerance:
B
Condition:
6
Weak Foot Accuracy:
7
Weak Foot Frequency:
7
Consistency: 5
Growth Type: Standard/Lasting
CARDS:
S03
: 1-on-1 Finish
P13
: Goal Poacher
P19
: Fox in the Box
SPECIAL ABILITIES:
Positioning - Scoring - 1 on 1 Scoring - Lines
Attack / Defence Awareness Card: Attack MindedINFO:
Slobodan Santrac is possibly the greatest Serbian striker in history. He started his career in OFK Beograd in 1965., stayed until 1974. and scoring 604 goals in 623 matches. Then he moved to Swiss Grasshoppers (66 goals in 96 matches), then went back to OFK Beograd for a season, after which he moved to Partizan Belgrade (72 goald in 103 matches). He ended his career in Galenika where he scored 88 goals in 117 matches.
He was player whose only job on the field was to score goals. He didn't try any attractive moves and dribblings, always trying to run off defenders and score goal. It was the only thing he was doing, but he was doing it fantastic. His goals weren't beautiful or powerful, but they were very precise, and he was scoring them with both legs, even with his head although he was small. He could score a goal from every place in the penalty area, with several defenders on his back.
Although he was the greatest striker, he didn't play much for national team, possibly because he wasn't playeng for one of the Yugoslav "big four" when he was at the top of his form. He got 8 caps, scoring only one goal.
Total amout of goals in his career is
1301
, putting him side-by-side with greatest strikers in history - Arthur Friedenreich, Josef Bican, Pele...