Stats by JeanMarc, Plava Čigra and Nakayama#9



Name: Ľubomír Moravčík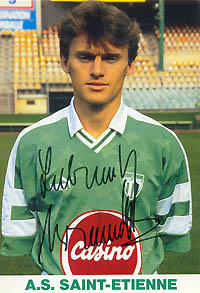 Country:
Slovakia
Clubs: FC Nitra (1988-1990), AS Saint-Étienne (1990-1993)
Position: *
AMF
,
SS
,
CMF
,
SMF
Side: RF/BS
Age: 23-28 years (22/06/1965)
Height: 173 cm
Weight: 72 kg
Attack:
82
Defence: 47
Balance:
78
Stamina:
79
Top Speed:
82
Acceleration:
85
Response:
75
Agility:
86
Dribble Accuracy:
90
Dribble Speed:
83
Short Pass Accuracy:
85
Short Pass Speed:
77
Long Pass Accuracy:
90
Long Pass Speed:
81
Shot Accuracy:
80
Shot Power:
86
Shot Technique:
83
Free Kick Accuracy:
88
Curling:
93
Header:
76
Jump: 73
Technique:
91
Aggression:
82
Mentality:
76
Keeper Skills: 50
Team Work:
82
Injury Tolerance:
B
Condition:
6
Weak Foot Accuracy:
8
Weak Foot Frequency:
8
Consistency:
6
Growth Type: Late Lasting
CARDS:
P05:
Trickster
S02:
Passer
S05:
1-touch Play
S06:
Outside Curve
S17:
Elastico
S18:
Cross Over Turn
S20:
Scooping
SPECIAL ABILITIES:
Dribbling - Tactical Dribble - Playmaking - Passing - 1 touch Pass - Outside
Attack / Defence Awareness Card: Attack Minded
INFO:
Native of Nitra, Slovak Lumobir Moravcik debuted pro in 1983. In the championship of Czechoslovakia at the time, FC Nitra is a small club suddenly the great playmaker never win anything in his country. He will spend seven seasons in his hometown club and soon enough he pointed out so well that it becomes international. I must say it will come to take the FC Nitra to play in the UEFA Cup in 1990. He played 42 games with the selection Czechoslovak and 38 with the young Slovak nation from 1994. Balance hidden behind the Iron Curtain, no club to the remark World Cup 90. If one puts in context the number 10 in the former still has a place in football and Lubo led the game in the Slavic tradition, based on great dribbling, change game inspired shots and blood spectacular. The fact a super global Representace 90 and reached the quarterfinals. During this match also, Lubo is noted by being expelled. After the World, he left his homeland and arrives in St Etienne. Nobody warned that the Greens had nothing to do with the big time. Never mind Lubo did a speech and attaches to the pot, its supporters. For 6 years, the lighthouse will Lubomir team Etienne plagued by dissension backstage, the board washing with soap and another stabbing. However, it will spend in the green jersey players: Gérald Passi, Laurent Blanc, Sylvain Kastendeuch, Roland Wohlfarth, Etienne Mendy, Rob Witschge, Milan Luhovy. Almost as much as coaches, probably the cause of the sinking Etienne. Captain courageous captain abandoned, keeping it afloat greens ensuring the continued quickly, but far from the European ambitions of the club. Faithful among the faithful, Lubo repeatedly refuse to join the OM Tapie who wanted to end the scam Dragan Stojkovic. It might also be due, history garnish a record as poor as that of his teammates. With St Etienne, he lived in an epic Cup France ending in semi-final against Nantes in 1993. Finally epic and a big word since we left the green Evry, Epinal (the tab) and Pau. Ok Greens have released the OM at home in the quarter, but behind, they will be crushed 1-0 at the Geoffroy-Guichard generation Pedros - Loko - Ouédec FC Nantes, the same people who lose 3-0 in the final against PSG. After 6 years in green, while the red zone approaches increasingly Lubo eventually quitterle club. It bounces Bastia. Furiani on the lawn, lush too small for such a talent, it will help to decorate a game essentially insular commitment. Serving the doublet Ermin Siljak - Anto Drobnjak Kozniku then, assist the Corsican club to do well in the soft underbelly of the championship. It makes a great first season but hurt the next. Reached the end of the contract, he left al Corsica and France. He opts for the MVS Duisburg Bundesliga small. Beyond the Rhine, it will completely graze. In the space of half a season, he played only five games. In mercato he is invited to spend his early retirement elsewhere. As often happens when we start fighting, we leave for a championship feeble. Lubo chooses Scotland, known for his game and loggers typically British. In the middle of the scotch butchers stuffed it does not hurt to shine. It will become one of the legends of Celtic. Finally a club poised to win something, it adds a few lines to his resume with two championship titles, two League Cups and a Scottish Cup. In three and a half years, he played 79 games with the green and white and scored 29 goals, as more Lubo has never hidden in a field, he has much to be proud of his career. He will end his career with a hook as exotic as lucrative in Japan. The Japanese will not see his mug that space and 7 meeting in December 2002, he returned to Europe at the same time he hangs up his boots. Both St Etienne at Bastia, he let fans remembered as a player as exemplary as spectacular, the kind of star that we like to identify.