Name: Giancarlo Galli

Nickname: "Testina d'Oro"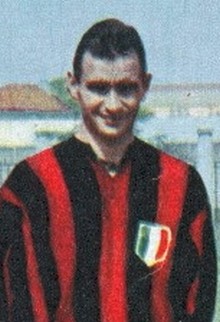 Country:
Italy
Clubs: A.S. Roma (1953-1956), A.C. Milan (1956-1958)
Position: *
CF
,
SS
Side: RF/BS
Age: 20-28 years (06/03/1931)
Height: 181 cm
Weight: 69 kg
Attack:
87
Defence:
43
Balance:
80
Stamina:
79
Top Speed:
82
Acceleration:
76
Response:
87
Agility:
79
Dribble Accuracy:
75
Dribble Speed:
76
Short Pass Accuracy:
76
Short Pass Speed:
71
Long Pass Accuracy:
71
Long Pass Speed:
70
Shot Accuracy:
84
Shot Power:
83
Shot Technique:
87
Free Kick Accuracy:
66
Curling:
68
Header:
92
Jump:
94
Technique:
78
Aggression:
83
Mentality:
83
Keeper Skills:
50
Team Work:
79
Injury Tolerance:
C
Condition:
6
Weak Foot Accuracy:
6
Weak Foot Frequency:
5
Consistency:
5
Growth Type:
Early Peak
CARDS:
P
19 Chasing Back
S
01 Reaction
S
04 PK Taker
SPECIAL ABILITIES:
Positioning - Penalties - Reaction
Attack/Defence Awareness Card:
Balanced
INFO:
Galli was centre forward, nicknamed "Golden Head" forr his fantastic heading abilities. Maybe he didn't have heading technique as good as the best in Serie A history, but his acrobatic flights were outstanding. He was very intelligent, he would jump before his markers and would remain in the air more than they and score. He was just unstoppable in tha air. Very thin and prone to injuries. Besides he had strong shot and solid speed but limited technically. In Milan he also started to play as the hard working inside forward, coming back to help Liedholm and Schiaffino. His first team was the 1948/49 House that as a coach Faccenda, former footballer of Milan, Pisa and Livorno. A severe economic crisis forced the team to Tuscany to sell its best players. Galli has seventeen years and his uncle, who has since gone to coach the youth of Palermo, he does buy the company rosanero where the first team is coached by "Gipo" Viani. Played in Palermo in Serie A two seasons, 1949/50 and 1950/51 seasons, scoring sixteen races and dispute forty-five networks. The following season saw the purchase of Rome by the Gauls who tries to go back to Serie A after being relegated he had made known to the football capital of the Cadets for the first time in its history. Galli is purchased with the proceeds collected from some well-deserving members to meet the serious economic crisis gripping the company. The persistence of Carlo Galli ranks Giallorossi lasts five seasons and the player stands out as one of the most prolific Italian striker. Takes the field, a total of 123 times and scored fifty-four networks. Milan are looking for a strong and convincing centrattacco sell it to Rome in exchange for forty million dollars. The coach is the usual Viani who can not seem to give up her ward. The trust is well rewarded as AC Milan won the Scudetto in his first year, 1956/57, and the repeats in the third, 1958/59. It 's a terrific Milan Liedholm and Schiaffino who are in Gaul a deadly end to their offensive game of perfect geometry. In Milan he stayed until 1961 and played a total of 112 races with forty-seven networks. Remember that in a match against Lazio Galli able to score five goals well the unfortunate goalkeeper biancoceleste Orlandi. The age of some 'advanced and the desire to rejuvenate the team convinced the company to divest Galli Milan Udinese in the 1961/62 season. Only eight games and no goals Friulani push to sell the 1962/63 season in Genoa in Genoa, but also the realization of vein Galli seems exhausted. The games are the eight goals and three. At the end of the season remains unemployed and decides to stop playing. In September 1963, Lazio, newly promoted to Serie A, is the frantic search for a striker. Eddie Firmani waste already signed a contract with Lazio, Ferrero Rozzoni costs too much and is seriously injured. The president and the coach is desperate Miceli Lorenzo centered on plans to deploy full-back Rambotti has a strong and accurate shot. At the suggestion of journalist Remo Gherardi, big fan of Lazio, Miceli try contacting Galli who is on vacation. Galli moved returns the check to the manager stating that the gift had made it back to him to Lazio in the world he loved best and that was most of his life. Hung his boots on the nail becomes sports director at Lazio until 1970/71.