Name: Zlatko Škorić

Nickname: "Žoga"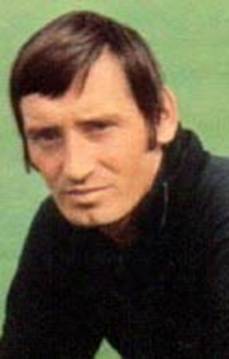 Country:
Croatia
Club: NK Dinamo Zagreb
Position: *
GK
Side: RF/BS
Age: 21-26 years (27/07/1941)
Height:
*
179 cm
Weight:
*
75 kg
Attack: 30
Defence:
89
Balance:
84
Stamina: 69
Top Speed: 71
Acceleration: 72
Response:
92
Agility:
82
Dribble Accuracy: 53
Dribble Speed: 56
Short Pass Accuracy: 55
Short Pass Speed: 58
Long Pass Accuracy: 59
Long Pass Speed: 62
Shot Accuracy: 49
Shot Power:
81
Shot Technique: 48
Free Kick Accuracy: 46
Curling: 49
Header: 47
Jump:
91
Technique: 58
Aggression: 61
Mentality:
84
Goalkeeper Skills:
87
Team Work:
77
Injury Tolerance:
B
Condition:
7
Weak Foot Accuracy: 4
Weak Foot Frequency: 4
Growth type: Standard
CARDS:
S11:
Penalty Saver
SPECIAL ABILITIES:
Penalty Stopper
Attack / Defence Awareness Card: Balanced
INFO:
Zlatko Škorić was one of the best Croatian keepers.
Keeper with excellent reflexes and jumping abilities, quick reactions and solid ground technique since he started as a striker than later went on goal. Škorić was fantastic penalty saver, he saved 48 out of 74 penalties he faced.
Škorić began his professional career at age 19 at his home club Dinamo Zagreb. With the club he was in nine seasons, four times a runner-up, winning three times in the Yugoslav Cup competition and the Inter-Cities Fairs Cup 1967th. After short stays in France with Olympique Avignonnais and Slovenia NK Olimpija Ljubljana, he transferred in 1971 to the Bundesliga for VfB Stuttgart for which he is in 24 league and three DFB Cup matches was used. A year later he transferred to FC Bayern Munich, for which he completed only four games. Of all the three Begegenungen, in which he played in the League Cup was lost in the first round: 16 August 1972 (1:4 against FC Bayern Hof, Round 3 in the yard), 19 August (1-2 against VfB Stuttgart, Ulm in Round 4) and 6 September (again 4:5 FC Bayern Hof, Round 6 in Germany). But on 26 October 1972 he was allowed to celebrate a victory: In the second leg of the second round in the European Champions Cup, he played 90 minutes and contributed to the 4-0 victory against Omonia Nicosia. In 1973 he returned to France in his career, initially for two years after only one season - after all, to end at NK Zagreb. Škorić played eight times in the senior national team of his country, for the first time on 1 April 1964 in Niš in a 1-0 victory over Bulgaria, the last time on 8 May 1966 in Zagreb's 2-0 victory over Hungary. In the eight appearances he came once for Milutin šoškić and once off the bench for Ilija Pantelić. He also acted in one (for the Yugoslav Federation) as an official international match scoring "charity" game (for the earthquake victims of Skopje) with the supervised in Belgrade with 2:7 against Helmut Schön "European choice" (with was Uwe Seeler, Karl-Heinz Schnellinger, Lev Yashin, Josef Masopust and Eusébio lost). After his playing career he embarked on the coaching career that began in BSK Slavonski Brod. He later oversaw the Angolan national team, after engagements in NK Samobor, at Dinamo Zagreb as an assistant coach HNK Segesta Sisak. He's now keepers coach in Dinamo's youth school.