Name: Volodymyr Ivanovych Onyshchenko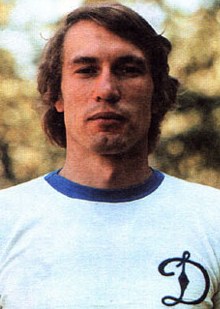 Country:
Soviet Union |
Ukraine
Club:
FC Zorya Luhansk
(1971-1973);
FC Dynamo Kyiv
(1974-1978)
Number:
8
Position: *
SS
,
WF
,
CF
Side:
LF/BS
Age:
23-28 years (28/10/1949)
Height:
172 cm
Weight:
71 kg
Attack:
85
Defence:
54
Balance:
76
Stamina:
83
Top Speed:
85
Acceleration:
87
Response:
86
Agility:
84
Dribble Accuracy:
86
Dribble Speed:
87
Short Pass Accuracy:
72
Short Pass Speed:
76
Long Pass Accuracy:
73
Long Pass Speed:
79
Shot Accuracy:
87
Shot Power:
86
Shot Technique:
83
Free Kick Accuracy:
71
Curling:
77
Header:
83
Jump:
82
Technique:
85
Aggression:
92
Mentality:
76
Goalkeeper Skills:
50
Team Work:
77
Injury Tolerance:
B
Condition/Fitness:
7
Weak Foot Accuracy:
6
Weak Foot Frequency:
6
Consistency:
7
Growth type:
Standard/Lasting
CARDS:

P

04
- Darting Run
P

10
- Incisive Run
P

15
- Free Roaming
S

01
- Marauding
S

05
- 1-touch Play
SPECIAL ABILITIES:
Dribbling - Positioning - Reaction - Scoring
Attack/Defence Awareness Card:
Attack-Minded
INFO:
Valery Lobanovsky called Vladimir Onishchenko a striker from God and a football knight. On the field, he was fearless, resourceful, sometimes surprised by the unpredictability of his actions, however, always justified. He was distinguished by high speed and technique - it seemed that the ball was literally tied to his leg. And also - a sharp scoring instinct, courage, sharpness. Possessing an exceptionally powerful sense of timing, an almost unmistakable choice of position, Vladimir constantly received passes from midfielders. Rivals literally hated him for his constant "appearances" out of nowhere and respected him for his rare fearlessness. Onishchenko, without hesitation, threw himself in a jump, trying to hit a low-flying ball with his head, to which the defender's foot was already rushing. Not tall in size, rather slender, of an anemic stature, compensating for shortcomings in athletic training, multiplied by speed and self-propelled technique. Volodya had a miraculous blow with his left foot, if he set it up, instantly pierce it with his right.
Vladimir Onishchenko was a dream forward that even Pele would like to play with! Volodya feels the time and position very keenly, and, like a computer, processes the information received with lightning speed and chooses the only correct decision. We could often observe his deliberate retreat into the shadows and a sudden explosion, his charge for a strike and an unexpected attack. He skilfully keeps on the edge of the Dynamo blade and at the same time is capable of wide manoeuvre along the entire front of the offensive. Relatively short (only 172 cm), he began his playing career as a goalkeeper. But the children's coaches later drew attention to his "crazy" speed, dribbling, focus on attacking actions and identified him as a left winger. At this position, Viktor Maslov saw a 16-year-old nimble meteor in 1965. It was he who invited Volodya to the reserve team of Dynamo Kyiv, where he already determined his position in the attack. For the first time, Vladimir really got into the base only in 1970. But despite participating in 7 matches of that championship and 4 goals scored, San Sanych Sevidov, who headed Dynamo before the 1971 season, with all his famous kindness, did not count on Onishchenko.
And the forward, together with a partner, who also did not have a permanent place in the line-up, one of the most elegant techies of his time, Vyacheslav Semenov, went to Lugansk (then Voroshilovgrad) Zorya, at that time the most modest Ukrainian team in the major leagues in terms of achievements. There were several options for the attacking actions of Zorya's midfielders V. Semenov, Y. Vasenin and V. Kuznetsov, and they became unpredictable with the appearance of technical Vladimir Onishchenko in Zorya, who could pass any defender at speed and break through the defense line on the outskirts of the penalty area. Zorya's championship became sensational, and Luhansk fans still revere that season like the Everest of local football. The hour has come to turn back to Dynamo, where Volodymyr is asked not by anyone, but by Valery Vasilyovich himself. From 1974 to 1977 with Dynamo he became the champion of the country three times, twice the owner of the USSR Cup. He successfully played in international matches - in 1975 he helped the club take the Cup Winners' Cup (he scored two goals in the final against the Hungarian Ferencváros, and scored seven goals in total) and won the UEFA Super Cup in the confrontation with Bayern.
The debut of Vladimir Onishchenko in the national team of the Soviet Union took place on June 7, 1972 in the USSR match against Bulgaria. Then he performed at the 1972 European Championships in Belgium, where the USSR team won silver, losing in the final to the German team. Onishchenko managed to score his first goal in the T-shirt of the national team in a match against Uruguay on June 29 of the same year. Then, as part of the Olympic team of the Union, he won bronze medal at the 1972 Summer Olympics in Munich. Onishchenko repeated this achievement four years later in Montreal, where in the match for 3rd place the ball magicians, the Brazilians were beaten, and he scored one of the goals. In 1973 he participated in Garrincha's farewell match..
Volodymyr Onishchenko too early - at 29 years - completed his performance on the football field. Who knows, maybe, from the point of view of history, it's not bad. More wins will be forgotten forever in the memory of this sharp, young, with filigree technique and harmonic strike player. In the end - 3x champion of the USSR, 2x of USSR Cup, the Cup Winners' Cup - 1975, the Super Cup - 1975. Vice-champion of Europe - 1972. Bronze medallist of the Olympics 1972 and 1976. For the national team of the USSR, he played 44 matches, scoring 11 goals.