STATS BY KONAMI



Name: Gheorghe Hagi

Nickname: "Commandante", "The Maradona of The Carpathians"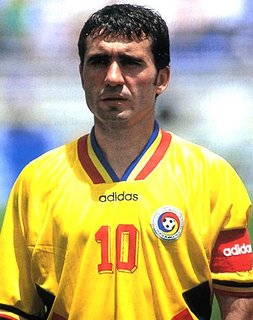 Country:
Romania
Clubs: Brescia Calcio, FC Barcelona
Position: *
AMF
,
CMF
Side: LF/BS
Age: 27-31 years (05/02/1965)
Height: 174 cm
Weight: 73 kg
Attack:
86
Defence:
42
Balance:
79
Stamina:
78
Top Speed:
80
Acceleration:
83
Response:
76
Agility:
83
Dribble Accuracy:
94
Dribble Speed:
81
Short Pass Accuracy:
96
Short Pass Speed:
86
Long Pass Accuracy:
94
Long Pass Speed:
86
Shot Accuracy:
86
Shot Power:
92
Shot Technique:
87
Free Kick Accuracy:
92
Curling:
90
Header:
67
Jump:
70
Technique:
96
Aggression:
78
Mentality:
81
Goalkeeper Skills:
50
Team Work:
77
Injury Tolerance:
B
Condition:
5
Weak Foot Accuracy:
7
Weak Foot Frequency:
6
Consistency:
5
Growth Type:
Standard/LastingCARDS:
P
05 Trickster
P
13 Long Ranger
S
02 Passer
S
04 PK Taker
S
05 1 Touch Play
S
06 Outside Curve
S
14 Quick Turn
S
18 Cross Over Turn
SPECIAL ABILITIES:
Tactical DribblE - Playmaking - Passing - Middle Shoting - Penalties - 1 Touch Pass - Outside
Attack/Defence Awareness Card:
Attack Minded
Quote:
A talented left-footed attacking midfielder, Hagi's playing style was frequently compared with Diego Maradona's throughout his career, due to his technical ability as well as his temperamental character and leadership; as a youth, he was mainly inspired by compatriots Anghel Iordănescu and Ion Dumitru. A quick, highly creative, and mobile advanced playmaker, Hagi was also tactically versatile, and capable of playing in several midfield and offensive positions on either wing or through the middle, due to his ability with both feet, despite being naturally left-footed, although he had a preference for using his stronger foot; his preferred position was in a free role as a classic number 10, but he was also used as a second striker on occasion. Hagi was renowned in particular for his first touch and speed on the ball, as well as his timing, interpretation of space, bursts of acceleration, and dribbling skills, which enabled him to get past defenders; he was also highly regarded for his vision and precise passing, although he was capable of both scoring and assisting goals, and was also an accurate finisher and set-piece taker, who had a penchant for scoring goals from powerful, bending long range strikes. Despite his small stature and slender build, Hagi possessed significant upper body strength, which, along with his control, aided him in protecting the ball from opponents, and allowed him to create space for himself or his teammates. Despite his skill and his reputation as one of the greatest number 10s of his generation, his career was marked by inconsistency at times, and he was also considered to be a controversial player, due to his rebellious and arrogant attitude, as well as his low work-rate, aggression, unsportsmanlike behaviour, and lack of discipline, which led him to have several disagreements and confrontations with his managers, opponents, and officials.