Name: Mehmed "Meho" Kodro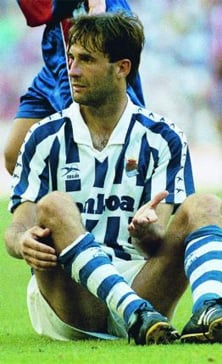 Country:
Bosnia & Herzegovina
Club: Real Sociedad
Number: 9
Position: *
CF
Side: RF/BS
Age: 24-28 years (12/01/1967 in Mostar
)
Height: 188 cm
Weight: 78 kg
Attack:
87
Defence: 44
Balance:
86
Stamina:
84
Top Speed:
79
Acceleration:
76
Response:
86
Agility:
80
Dribble Accuracy:
83
Dribble Speed:
76
Short Pass Accuracy:
75
Short Pass Speed:
78
Long Pass Acc: 69
Long Pass Speed: 74
Shot Accuracy:
86
Shot Power:
87
Shot Technique:
86
Free Kick Accuracy:
85
Curling:
79
Header:
90
Jump:
82
Technique:
81
Aggression:
88
Mentality:
80
Keeper Skills: 50
Team Work:
78
Injury Tolerance:
B
Condition/Fitness:
7
Weak Foot Accuracy: 5
Weak Foot frequency: 5
Dribbling style: 1
Growth type: Standard
CARDS:
P13:
Long Ranger
P15:
Goal Poacher
S04:
PK Taker
SPECIAL ABILITIES:
Scoring - Post Player - Middle Shooting - Penalties - Lines
Attack/Defence Awareness Card: Attack Minded
INFO:
Kodro began his career in Velež in 1985 as a very talented player. The first contract signed with Velež, who then were coached by Duško Bajević, a first goal as a pro has scored in Sarajevo, in 1985. In 1986 he won the Yugoslav Cup with Velež. After a good game followed by an invitation to the national team of Yugoslavia, for which he played 2 games. Ivica Osim recognized good scorer, but the war interrupted his representative career. Just before the aggression on Bosnia, Meho went to Spanish Real Sociedad where he will leave a big mark with 73 goals in 129 league games. As his reputation grew very fast, so it gradually attracted the attention of big clubs. In the 1995/1996 season Johann Cruyff brought him to Barcelona where, due to several injuries scored only 9 goals in 32 games. Will be remembered two of his goals on 10th February 1995 in the 3-0 victory over rival Real Madrid. In 1996 with Barcelona he was the winner of the Spanish Super Cup. At the end of the season left the club and joined the club CD Tenerife where he stayed for the next three seasons. There he partly returned to the form with a total of 72 games scored 18 goals. Kodro in the 1999/2000 season came to Deportivo Alaves and scores 5 goals in 30 games. In 263 games in the Spanish Primera league scored 105 goals.