Stats by Nakayama#9.
Name: HWANG Seon-Hong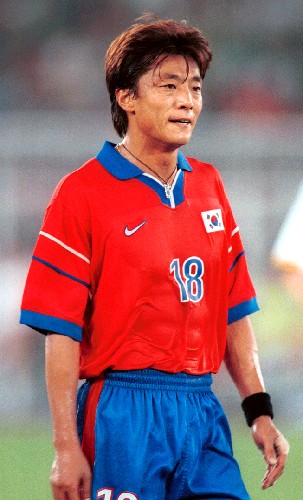 Country:
Republic of South Korea
Club: Cerezo Osaka
Number: 18
Position:
*
CF
,
WF
Side: RF/BS
Age: 30-31 years (14/07/1968)
Height: 183 cm
Weight: 76 kg
Attack:
85
Defence: 40
Balance:
82
Stamina:
84
Top Speed:
83
Acceleration:
85
Response:
86
Agility:
82
Dribble Accuracy:
84
Dribble Speed:
81
Short Pass Accuracy:
76
Short Pass Speed:
75
Long Pass Accuracy:
76
Long Pass Speed:
77
Shot Accuracy:
84
Shot Power:
80
Shot Technique:
85
Free Kick Accuracy:
75
Curling:
84
Header:
83
Jump:
83
Technique:
82
Aggression:
87
Mentality/Tenacity:
82
Keeper Skills: 50
Team Work:
79
Injury Tolerance:
A
Form/Condition/Fitness:
6
Weak Foot Accuracy:
7
Weak Foot Frequency:
6
Consistency:
7
Growth type: Standard/Lasting
CARDS:
P
13: Goal Poacher
S
03: 1-on-1 Finish
S
05: 1-touch Play
SPECIAL ABILITIES:
1-Touch Play - Positioning - Scoring - 1-1 Scoring - Lines
Attack/Defence Awareness Card:
Attack Minded
INFO
During most of the last 2 decades Hwang was regarded as a Korean scoring sensation. He made his international debut against Japan on December 6, 1988 and led the Korean national team from the 1990 World Cup to the 2002 World Cup though his career suffered a blip when an injury forced him to miss the 1998 tournament because a Chinese player had severely injured him in France.
A dangerous striker who excelled in putting the ball into the net, Hwang was South Korea's most consistent forward for much of the past decade, and his absence due to injury played a major part in the team's poor showing in France 98. Hwang was South Korea's outstanding player in the 2001 Confederations Cup, scoring against Mexico and Australia, as well as against Germany in the 1994 World Cup. He was arguably one of Asia's finest finishers in recent times, and was short-listed for the prestigious Asian Player of the Year award in 2002.
Hwang participated at the 1996 Summer Olympics.
At club level, Hwang initially boycotted K-League draft system with Hong Myung-Bo as a youngster to play in Europe - where he joined 2. Bundesliga outfit Wuppertaler SV during the season of 1992/1993, he scored 3 goals in 9 appearances until he injured his knee. After his brief stint in Europe as a player, Hwang spent much of his career in the J-league and enjoyed his most prolific season with Cerezo Osaka in 1999 with 24 goals in 25 matches, making him the top scorer in the J-league charts.
In late 2003, having finally hung up his boots, the legendary striker has now turned his attention to coaching.
Even as he approached the ripe old age of mid-30's, Hwang remained a highly effective striker who could always get himself into good scoring positions. He was an important part of the 2002 World Cup squad, where his wiliness and vast international experience lent a steady hand to Guus Hiddink's young players.
The veteran Korea striker ended his international career after the 2002 World Cup. Prior to the 2002 World Cup Hwang had made 97 appearances for the South Korea national football team, scoring an impressive number of 49 goals, meaning he averaged a goal every 2 matches.
J. League Division 1 top scorers
1999 J-League Team of the Year
1988 AFC Asian Cup Runners-up
1990 FIFA World Cup
1994 FIFA World Cup
1996 AFC Asian Cup
1996 Summer Olympics
1998 FIFA World Cup
2000 CONCACAF Gold Cup
2001 FIFA Confederations Cup
2002 CONCACAF Gold Cup Fourth Place
2002 FIFA World Cup Fourth Place
VIDEO
www.youtube.com/watch?v=FlIiYH0GyUs
www.youtube.com/watch?v=AaSGbbJuxFc
www.youtube.com/watch?v=oM1gZixN66I