Stats by Nakayama#9.
Name: Masashi Nakayama
Nickname: ''Gon''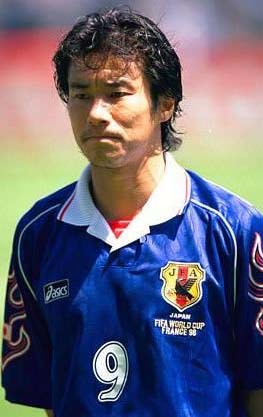 Country:
Japan
Club: Júbilo Iwata
Number: 9
Position:
*

CF
Side: RF/BS
Age: 28-33 years (23/09/1967)
Height: 178 cm
Weight: 72 kg
Attack:
87
Defence: 49
Balance:
78
Stamina:
81
Top Speed:
80
Acceleration:
83
Response:
88
Agility:
82
Dribble Accuracy:
78
Dribble Speed:
75
Short Pass Accuracy: 72
Short Pass Speed: 70
Long Pass Accuracy: 70
Long Pass Speed: 71
Shot Accuracy:
84
Shot Power:
79
Shot Technique:
86
Free Kick Accuracy: 73
Curling: 72
Header:
89
Jump:
88
Technique:
79
Aggression:
90
Mentality:
83
Keeper Skills: 50
Team Work:
80
Injury Tolerance: C
Condition:
7
Weak Foot Accuracy:
7
Weak Foot Frequency: 5
Consistency:
6
Growth type: Late Peak
CARDS:
P
15: Goal Poacher
S
03: 1-on-1 Finish
S
05: 1-touch Play
SPECIAL ABILITIES:
Positioning - Scoring - 1-1 Scoring - Lines - 1-Touch Play
Attack/Defence Awareness Card:
Attack Minded
INFO
Career
Playing as a Forward, Nakayama made his J. League debut on March 11, 1994. Since that time, he has been an ever-present part of the Jubilo lineup as they have consistently been one of the top teams in the J. League since its inception. With a strikerate of more than a goal every two games throughout his career, Nakayama is the inspirational and talismanic leader for both Jubilo Iwata and the Japanese national team.
At the 1998 FIFA World Cup finals in France, Nakayama scored the only goal of the tournament and the first goal for Japan in the history of the World Cup against Jamaica on June 26, 1998. As of 2009, he has scored 21 goals in 53 appearances for the Japanese national team, which places him 8th all-time among goalscorers for his country.
Nakayama also holds the world record fastest hat-trick at international level. He managed three goals in a FIFA World Cup qualification match against Brunei on 16 February 2000 in only three minutes and three seconds, beating the previous record of Englishman George William Hall set in 1938 (against Ireland) by 27 seconds.
This striker becomes a record-holder with other hat-tricks, that he did it in four successive games of J.League, from April 15 to April 29 in 1998. He scored 16 times(!
!) in these games. The record is recognized by the Guinness Book of World Records.
Affectionately known as 'Gon', Nakayama is a fan favorite among many casual Japanese football fans for his outspoken and humorous nature. Now in the twilight of his career, injuries and age have taken a toll on Nakayama's skills but he still remains a favorite of the Jubilo faithful, as evidenced by the fact that he draws the loudest cheers by far from the home crowd at Yamaha Stadium when his name is announced during warm-ups or when he comes on as a substitute.
VIDEOS
www.youtube.com/watch?v=ZF6ciAadEMs
www.youtube.com/watch?v=_y03uRH3Ank&NR=1
www.youtube.com/watch?v=XhK6FVfTxWg&feature=related
www.youtube.com/watch?v=0vpfgqPlG_4
www.youtube.com/watch?v=ECytZ6yUq9Y&feature=related
(Nakayama's diving header!!!lol
)