Updated version of the original stats made by M'fckn_biychz



Name: Matthew Le Tissier

Nickname: "Le God"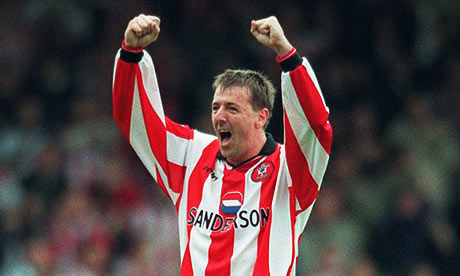 Country:
England
Club: Southampton FC
Number: 7
Position: *
AMF
,
SS
,
CF
Side: RF/BS
Age: 26-30 years (14/10/1968)
Height: 185 cm
Weight: 86 kg
Attack:
87
Defence: 33
Balance:
83
Stamina:
79
Top Speed:
78
Acceleration:
82
Response:
80
Agility:
83
Dribble Accuracy:
92
Dribble Speed:
80
Short Pass Accuracy:
85
Short Pass Speed:
82
Long Pass Accuracy:
85
Long Pass Speed:
83
Shot Accuracy:
88
Shot Power:
85
Shot Technique:
97
Free Kick Accuracy:
91
Swerve:
97
Header:
77
Jump: 73
Technique:
95
Aggression:
82
Mentality:
78
Keeper Skills 50
Team Work:
78
Injury Tolerance:
B
Form/Condition/Fitness: 5
Weak Foot Accuracy:
7
Weak Foot Frequency:
7
Consistency:
6
Growth Type: Standard/Lasting
CARDS
:
S04
- PK Taker
S05
- 1-Touch Play
S15
- Shoulder Feint Skills
S18
- Turning Skills
P03
- Trickster
P11
- Long Ranger
SPECIAL ABILITIES
: Dribbling - Scoring - Middle Shooting - Centre - Penalties - 1-Touch Play
Attack/Defence Awareness Card
: Attack Minded
INFO:
Matthew Le Tissier is a retired English footballer who played for Southampton FC and England.
An attacking midfielder with exceptional technical skills, Le Tissier is the second-highest ever scorer for Southampton behind Mick Channon and was voted PFA Young Player of the Year in 1990. He was the first midfielder to score 100 goals in the Premier League. He is notable for his record at scoring penalty kicks, converting from the spot 48 times from 49 attempts.
In spite of interest from bigger clubs such as Tottenham in 1990 and Chelsea in 1996, Le Tissier remained at Southampton for his entire professional career, his loyalty garnering special affection from Southampton's fans who nicknamed him "Le God". His shooting was absolutely amazing, he could score from any distance with high amount of swerve which hadn't given keepers any chance to defend their nets. Also, he could dribble past any player, not with such a great speed, but with fantastic effect. However, his main weaknesses were laziness and absolute disinterest for defence.
As a Channel Islander, he was eligible for any of the Home Nations teams. Electing to play for England, he earned eight caps over three years, but failed to score at international level.
In the run up to 1998 FIFA World Cup, he scored a hat-trick in a game for England B; despite this, he was controversially overlooked by manager Glenn Hoddle for the final squad, a decision that the player himself cited as a hiatus in his career after which his form never fully recovered. Ironically, given his reputation for penalty taking, England exited the tournament after losing to Argentina in penalty shootout.