Updated version of the original stats made by Adhitz-Zetsu
Name: Stéphane Henchoz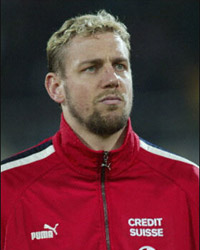 Country:
Switzerland
Club: Liverpool F.C.
Position: *
CB
Side: RF/BS
Age: 27-30 years (07/09/1974)
Height: 185 cm
Weight: 83 kg
Attack: 60
Defence:
86
Balance:
88
Stamina:
81
Top Speed:
77
Acceleration:
76
Response:
83
Agility: 73
Dribble Accuracy: 71
Dribble Speed: 71
Short Pass Accuracy: 71
Short Pass Speed:
75
Long Pass Accuracy: 73
Long Pass Speed:
75
Shot Accuracy: 64
Shot Power:
82
Shot Technique: 67
Free Kick Accuracy: 62
Curling: 65
Header:
87
Jump:
83
Technique: 72
Aggression: 60
Mentality:
85
Goalkeeper Skills: 50
Team Work:
82
Injury Tolerance:
B
Condition/Fitness:
6
Weak Foot Accuracy: 5
Weak Foot Frequency:
6
Consistency:
6
Growth Type: Standard
CARDS
:
S07
: Man Marking
S09
: Covering
S10
: DF Leader
SPECIAL ABILITIES
: Marking - Covering - D Line Control
Attack/Defence Awareness Cards
: Defence Minded
INFO:
Henchoz first came to notice playing in the German Bundesliga for Hamburger SV. After signing for Blackburn Rovers in 1997, Henchoz enjoyed two personally successful seasons in a relatively underperforming Rovers team. As Blackburn were relegated at the end of the 1998–99 season, Henchoz remained a Premiership player after being purchased for 3.5 million pounds by Liverpool.
At Liverpool, Henchoz became a regular member of the first team during his five-and-a-half year stay at Anfield. Henchoz proved to be an inspirational signing and was popular with the Liverpool fans. He formed an effective central defensive partnership with Sami Hyypiä. This partnership played an important part in Liverpool's historic cup treble in 2001, although it was Henchoz's handball in the 90th minute of the League Cup Final against Birmingham City that led to extra time (the match itself was only settled on penalties). Henchoz also famously blocked a goalbound Thierry Henry shot with his arm in the 17th minute of that year's FA Cup Final, contributing to Liverpool's victory in the match.
His last two seasons were interrupted due to spells of injury but he still surpassed the 200 mark of games for Liverpool in 2003–04. With injury problems and Gerard Houllier preferring Igor Bišćan at centre half, Henchoz became something of a bit part player appearing as an occasional right back. Eventually, the Henchoz-Hyypiä partnership was rekindled in 2003–04, helping Liverpool to fourth place in the league.
When Rafael Benítez replaced Gérard Houllier as manager, his decision to try versatile English defender Jamie Carragher in partnership with Hyypiä spelled an end to Henchoz's Anfield career. Carragher, previously employed as a full-back, was a revelation at centre back and Henchoz consequently joined Celtic for free on a six-month contract. However, upon the expiration of that contract, Henchoz opted to move back to the Premiership with newly promoted Wigan Athletic. Whilst at Wigan he started in the 2006 Football League Cup Final.
Henchoz left Wigan after only a year, signing a contract until the end of the 2006–07 season back with Blackburn Rovers. He was used sparingly during the season to fill in for injuries, but performed suitably. His second spell at Blackburn Rovers came to an end on May 19, when he was released by Mark Hughes. He was reported of ending his career on 13 October 2008, he now intends to study for his coaching badge. Henchoz played for Switzerland in UEFA Euro 1996 and UEFA Euro 2004. He was expected to play in the FIFA World Cup 2006, but due to health problems he retired on 31 March 2006.