Name: Alessandro Renica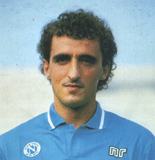 Country:
Italy (born in Anneville-sur-Mer, France
)
Club: SSC Napoli
Position: *
CWP
,
CB
, (
SB
as optional)
Side: LF/LS
Age: 23-28 years (15/09/1962)
Height: 182 cm
Weight: 76 kg
Attack: 67
Defence:
84
Balance:
86
Stamina:
83
Top Speed:
79
Acceleration:
75
Response:
83
Agility: 73
Dribble Accuracy:
77
Dribble Speed:
75
Short Pass Accuracy:
77
Short Pass Speed:
80
Long Pass Accuracy:
84
Long Pass Speed:
80
Shot Accuracy: 70
Shot Power:
91
Shot Technique: 73
Free Kick Accuracy:
77
Curling: 72
Header:
86
Jump:
83
Technique:
76
Aggression:
75
Mentality:
85
Keeper Skills: 50
Team Work:
83
Injury Tolerance:
B
Condition/Fitness:
6
Weak Foot Accuracy: 5
Weak Foot Frequency: 4
Growth Type: Standard
CARDS:
P13:
Long Ranger
P18:
Extra Attacker
S07:
Man Marking
S10:
DF Leader
SPECIAL ABILITIES:
Middle Shooting - Marking - D Line Control
Attack / Defence Awareness Card: Attack Minded
INFO:
Alessandro Renica is former French born Italian player and the libero of fantastic Napoli side of late 80's. Renica was offensive minded player with strong shot and good long balls as well as solid free kick taker. Besides had good technique and ball control and was very good in aerial battles. He was also very strong player and became notorious for his hard tackling. Renica began his football career at age of 13, when he was hired by Lanerossi Vicenza. He remained with the red and white for three seasons but did not find much space. In the 1982-83 season he was bought by Sampdoria's Paolo Mantovani. With the team of Liguria, newly promoted to Serie A, will mark his first goal as a professional, right against his hometown team, Hellas Verona ie, January 15, 1983. In confirmation of his best, Renica become starter next season (1983-84). He was famous for his game more offensive than defensive, which sometimes caused big headaches to his coaches and teammates. In the 1984-85 season arrives, as a coach, Eugenio Bersellini that reinvents Renica as a side back, preferring as libero Luca Pellegrini, although the latter was often absent due to knee injuries. Renica didn't like his new role and preferedr to change the club when came an offer by Italo Allodi, executive just arrived at Napoli. The Verona player becomes the starter immediately. In the first winning of Napoli's scudetto (1986-87) Renica is one of the most present with 29 games, scoring also a goal. Considered by many to be one of the best liberos in Italy was also espected to play for the National Team. However, he will always be closed by Franco Baresi and didn't enter the field even for a minute with the Italian jersey.
Baresi with Milan made also "problems" in the league. Napoli will not repeat the title from last year, giving the glory of first place right to Milan. An internal crisis in the Napoli team will revolutionize the team, but he remained on the slopes of Vesuvius for the following year, when going to win the UEFA Cup, scoring the winning goal for Napoli over Juventus shortly before the end of the second overtime, that goal earned qualification. In 1989-90 Renica suffered a seriously injury and only played a few games. Although Napoli win his second championship, this season Renica will regret forever. The injury will never heal 100% and after the 1990-91 season also ends his experience at Napoli, being ceded to Verona, the team of his hometown, before retiring. Renica worked as a coach for the Submarine Chioggia, but not achieving the same glory as a player once.