Name: Richard Dean Davis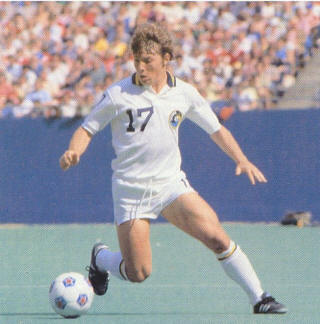 Country:
USA
Club: New York Cosmos
Position: *
SMF
,
WB
,
AMF
,
SB
,
WF
Side: RF/BS
Age: 20-26 years (24/11/1958)
Height: 173 cm
Weight: 74 cm
Attack:
75
Defence: 62
Balance:
82
Stamina:
87
Top Speed:
84
Acceleration:
83
Response:
77
Agility:
82
Dribble Accuracy:
78
Dribble Speed:
81
Short Pass Accuracy:
78
Short Pass Speed:
75
Long Pass Accuracy:
81
Long Pass Speed:
79
Shot Accuracy:
75
Shot Power:
83
Shot Technique:
76
Free Kick Accuracy: 71
Curling:
75
Header: 68
Jump:
76
Technique:
78
Aggression:
79
Mentality:
81
Keeper Skills: 50
Team Work:
78
Injury Tolerance: C
Condition/Fitness: 5
Weak Foot Accuracy:
6
Weak Foot Frequency: 5
Growth Type: Standard
CARDS:
P17:
Free Roaming
SPECIAL ABILITIES:
Side
Attack / Defence Awareness Card: Attack Minded
INFO:
Rick Davis was former American player. He was one of the best ever players to emerge from USA, as well as the legendary NT captain. He was covering whole right side of the pitch. Midfielder of location but he often started the games as side back regularly joining the attack. Depending on situation on the field and result he acted always properly by bursting forward all the way when the score wasn't favourable, and keeping calm head in making good defensive work when his team was leading. Davis was tireless runner on the right side mostly, but he could play also on the left side. In the beginning of the carrer Davis was technically not good. He was physically the beast throughout his whole carrer, especially his great musculous legs and great stamina, but lacked little bit of grace and skills. But with the time, he improved significantly in his technique and even played in later part of his carrer as an offensive midfielder and playmaker in USA NT. He was very strong in tackling and able to send very good crosses from the flank as well as very calm and good in 1-1 finishing.
Rick's soccer journey began in 1965 as a seven-year-old player in the American Youth Soccer Organization (AYSO) in Claremont, CA. Now, some forty years later, he has come full circle and is the AYSO National Director of Programs. A few things happened between 1965 and 2005. During his high school years he won the McGuire Cup (National Youth Championship) with the Santa Clara Broncos, and as a senior he was selected as a High School All-American. He made his first appearance with the U.S. Olympic and National teams while attending Santa Clara University as a freshman. He joined the New York Cosmos in the North American Soccer League (NASL) after playing one season at Santa Clara, and was with them from 1978 to 1984, appearing in a total of 154 games and scoring 15 goals. Rick was a member of the Cosmos' NASL-champion teams in 1978, 1980 and 1982. Following his time with the Cosmos he played with the St. Louis Steamers, NY Arrows and the Tacoma Stars of the Major Indoor Soccer League.
Rick played his first full international against El Salvador in 1977, scoring a goal in this, his first appearance for the United States. He went on to play 36 full internationals for the U.S., which was a record at that time, and scored seven goals. From 1984 onward he was the regular captain of the national team including leading it in the 1984 and 1988 Olympic Games. A knee injury in 1989 ended his outdoor career. He also played for the United States in the qualifying rounds of the 1982, 1986 and 1990 World Cups. After he had played in the first two 1990 qualifying games, played in the summer of 1988, he suffered a knee injury in January 1989 that ended his outdoor career. His final three games in a United States uniform had been at the Olympic Games in South Korea in September 1988. Davis joined the New York Cosmos at the start of the 1978 NASL season after playing one season in college at Santa Clara. He played for the Cosmos from 1978 to 1984, appearing in a total of 154 NASL games as well as participating in the Cosmos worldwide exhibition tours. Davis was a member of the Cosmos NASL-champion teams in 1978, 1980 and 1982. Following the retirement of Werner Roth in 1979, he clearly was the outstanding American player in the Cosmos galaxy of international stars. Davis continued playing indoors until 1990, in an attempt to regain fitness and make the U.S. team for the 1990 World Cup. He had begun playing in the Major Indoor Soccer League in 1983 and, in the final NASL season, he played for the Cosmos on loan from the St. Louis Steamers of the MISL. In the MISL, he played three seasons for the Steamers, one for the New York Arrows and three for the Tacoma Stars. Davis was elected to the National Soccer Hall of Fame in 2001.