Name: Wolfgang-Felix Magath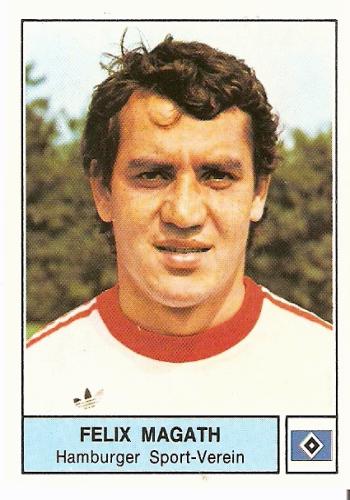 Country:
Germany
Club:
H
amburger
S
port-
V
erein
Position: *
CMF
,
AMF
Side: LF/BS
Age: 26-32 years (26/07/1953)
Height: 172 cm
Weight: 74 kg
Attack:
85
Defence: 64
Balance:
83
Stamina:
90
Top Speed:
81
Acceleration:
78
Response:
80
Agility:
81
Dribble Accuracy:
88
Dribble Speed:
77
Short Pass Accuracy:
89
Short Pass Speed:
83
Long Pass Accuracy:
91
Long Pass Speed:
82
Shot Accuracy:
80
Shot Power:
86
Shot Technique:
84
Free Kick Accuracy:
79
Curling:
84
Header: 70
Jump: 73
Technique:
90
Aggression:
77
Mentality:
82
Keeper Skills: 50
Team Work:
90
Injury Tolerance:
B
Condition/Fitness:
7
Weak Foot Accuracy: 5
Weak Foot Frequency: 5
Growth Type: Standard
CARDS:
P09:
Early Cross
P20:
Talisman
S01:
Reaction
S02:
Passer
S05:
1-touch Play
SPECIAL ABILITIES:
Tactical Dribble - Playmaking - Centre - Reaction - Passing - 1 touch Pass
Attack / Defence Awareness Card: Balanced
INFO:
Felix Magath was the brain of great HSV side of 70's and 80's. Excellent playmaker with a lot of running, great technique and vision. Magath had also good shot, scored some spectacular goals throughout the career. He was strong player, it was hard to take the ball away from him, had good ball control and dribbling. Felix Magath was on 26 July 1953 in Aschaffenburg born. He grew up as the son of a U.S. soldier from Puerto Rico and his mother coming from East Prussia. At the age of seven he was a member of the 1960 local sports club VfR Nilkheim before he moved in 1964 for the TV 60 Aschaffenburg. Magath played from 1972 as a field player in Victoria Aschaffenburg. 1974 he was with the change on 1 FC Saarbrucken of the jump in the 2nd Bundesliga. For the 1976/77 season he moved to Hamburger SV. Already in the first season he was in the position of the midfield regulars in the 1st Bundesliga. In April 1977 he made his debut in the German national team. Magath won in 1983 with the HSV under coach Ernst Happel in European Champions Cup. Until the 1985/86 season was Felix Magath Hamburg SV faithful, for whom he scored 46 goals in 306 games, and thus became one of the most popular players in the Bundesliga. For the DFB team, he scored from 1977 to 1986 in 43 matches 3 goals. However, he was at the soccer World Cup in 1982 and 1986 runner-up respectively. After his retirement from active competition, he earned his first as manager of Hamburg SV and later the club Bayer Uerdingen. He then started his career in 1995 as a club coach for HSV. 1997/98 he spent one season as coach to the second division, first FC Nuremberg before he was about the stations SV Werder Bremen Eintracht Frankfurt 1998/99 and 1999/2001 committed in 2001 from VfB Stuttgart. He soon led VfB Stuttgart to one of the most successful clubs in the Bundesliga. In 2003, the VfB German Vice-Champion, which he entered the first time in its history in the Champions League. With great media attention Felix Magath was in season 2004/05 succeed Ottmar Hitzfeld as coach of the club record champions FC Bayern Munich. In the first year in Munich he won the League Cup. Back in 2005, Magath celebrated with Bayern Munich to win the German championship. That same year, the German Cup winner FC, Magath. 2006, Magath won again the title of the German Cup and the German Cup with Bayern. Felix Magath was on 31 January 2007 from FC Bayern Munich on leave and replaced with immediate effect by Ottmar Hitzfeld. This was due to start in the second half with just one point from two games. Hitzfeld was committed first to the end of 2006/2007 season as coach. Private Felix Magath since 2003, married his second wife. From this relationship he is the father of three children. From his first marriage already had three children.