Name: Julio César Romero

Nickname: "Romerito"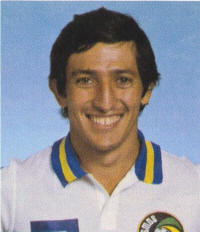 Country:
Paraguay
Clubs: New York Cosmos (1980-1983), Fluminense (1983-1986)
Position: *
AMF
,
SMF, CMF
,
SS
Side: RF/BS
Age: 20-26 years (28/08/1960)
Height: 174 cm
Weight: 68 kg
Attack:
86
Defence: 49
Balance:
77
Stamina:
80
Top Speed:
84
Acceleration:
87
Response:
78
Agility:
88
Dribble Accuracy:
92
Dribble Speed:
84
Short Pass Accuracy:
87
Short Pass Speed:
79
Long Pass Accuracy:
84
Long Pass Speed:
78
Shot Accuracy:
85
Shot Power:
82
Shot Technique:
85
Free Kick Accuracy:
85
Curling:
87
Header:
78
Jump:
79
Technique:
91
Aggression:
82
Mentality:
78
Keeper Skills: 50
Team Work:
83
Injury Tolerance:
B
Condition/Fitness: 5
Weak Foot Accuracy:
6
Weak Foot Frequency:
6
Growth Type: Early/Lasting
CARDS:
P07:
Mazing Run
S05:
1-touch play
S06:
Outside Curve
S14:
Quick Turn
S18:
Cross Over Turn
SPECIAL ABILITIES:
Dribbling - 1 Touch Play - Outside - Playmaking
Attack/Defence Awareness Card: Attack Minded
INFO:
Julio Cesar Romero or simply just Romerito is one of the greatest players from Paraguay. Player with amazing dribbling abilities and great technique, very inventive player with great vision. He was little bit physically weak but still very efficient player, scoring more than 400 goals in carrer. He played deeper in midfield in later part of his spell in Cosmos, in the beginning he played more offensive as a support striker or even side midfielder on the right side which sometimes transformed in a winger role, but he didn't make crosses from the flank, instead he acted as a modern day Messi, straight towards the goal in the middle. In NT he played more offensive like SS and AMF. Romero started his career at local club Sportivo Luqueño in 1977, by 1979 Romerito's consistent performances had earned him a place in the Paraguay national football team that played in the FIFA World Youth Championship and was considered one of the best players of the tournament along with Diego Maradona. In the same year, Romerito played the Copa América which was eventually won by Paraguay.
In 1980 he joined now defunct New York Cosmos where he played alongside such greats as Carlos Alberto and Franz Beckenbauer. Romero moved to Brazil to play for Fluminense where he was selected as the South American Footballer of the Year in 1985. He became a fan favorite after leading the team to a Campeonato Brasileiro. In 1985 he was a key player in helping the Paraguayan national team return to the FIFA World Cup finals after a 28-year hiatus. After a short spell with FC Barcelona in Spain and a stint in Mexico with Puebla F.C. Romero returned to South America where he played out his career with Olimpia, Club Cerro Corá and Sportivo Luqueño in Paraguay and La Serena in Chile. During his career, he scored more than 400 goals, also netting 2 great goals on WC 1986 in Mexico. He is the only Paraguayan named by Pelé as one of the top 125 greatest living footballers in March 2004.