Name: Roberto Cabañas González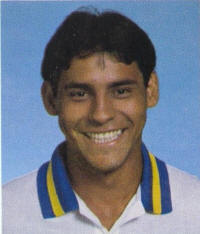 Country:
Paraguay
Clubs: New York Cosmos (1982-1984), América Cali (1984-1987)
Position: *
CF
,
SS
,
AMF
Side: RF/BS
Age: 21-26 (20/04/1961)
Height: 182 cm
Weight: 80 kg
Attack:
87
Defence: 45
Balance:
85
Stamina:
81
Top Speed:
85
Acceleration:
82
Response:
85
Agility:
77
Dribble Accuracy:
79
Dribble Speed:
81
Short Pass Accuracy:
79
Short Pass Speed: 73
Long Pass Accuracy:
75
Long Pass Speed: 73
Shot Accuracy:
84
Shot Power:
87
Shot Technique:
88
Free Kick Accuracy:
81
Curling:
75
Header:
88
Jump:
85
Technique:
80
Aggression:
87
Mentality:
84
Keeper Skills: 50
Team Work:
79
Injury Tolerance:
B
Condition/Fitness:
6
Weak Foot Accuracy:
6
Weak Foot Frequency:
6
Growth Type: Early/Lasting
CARDS:
P16:
Dummy Runner
P19:
Chasing back
S01:
Reaction
S05:
1-touch play
SPECIAL ABILITIES:
Positioning - Reaction - Scoring - 1 Touch Pass
Attack/Defence Awareness Card: Balanced
INFO:
Roberto Cabanas was great striker from Paraguay. Player with great physical ability and heading, solid free kick taker, fast, excellent in jump, and with strong shot especially from volleys. He played as central forward mainly but was very grateful player, coming back to help and even starting the attacks from midfield. He played deeper sometimes for Cosmos showing great skills in one-two passes. In NT he also played similar roles as in Cosmos.
During his career, Cabañas played for Cerro Porteño of Paraguay, Stade Brestois and Olympique Lyonnais of France, the New York Cosmos (winning the 1980 and 1982 NASL championship and the NASL Most Valuable Player Award in 1983), América de Cali of Colombia (helping the team in reaching three consecutive Copa Libertadores finals) and Boca Juniors of Argentina (winning the 1992 Apertura tournament and the 1992 Copa Masters).
Cabañas was also a key player of the Paraguayan national team during the 1980s. Cabañas was not only pivotal in Paraguay's qualification for the Mexico 1986 World Cup, but he also scored the two goals against Belgium in the pivotal third third group match, thus tying the game at 2-2. This allowed for Paraguay to qualify second in their group, behind Mexico. They eventually lost to England but still they left good image on this World Cup.