Konami stats modified by Charrúan
Name: Roger Milla - born Albert Roger Mooh MillerNickname: "Le vieux Lion", "L'empereur du Cameroun"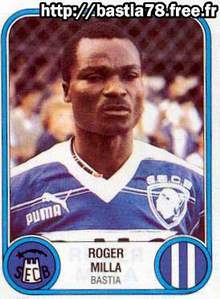 Country:
Cameroon
Club: SC Bastia
Position: *

CF


Side: RF/BS
Age: 28-32 years (20/05/1952)

Height: 176 cm
Weight: 72 kg

Attack: 85
Defence: 40
Balance: 85
Stamina: 81
Top Speed: 85
Acceleration: 87
Response: 84
Agility: 83
Dribble Accuracy: 86
Dribble Speed: 87
Short Pass Accuracy:

79


Short Pass Speed: 73
Long Pass Accuracy: 73
Long Pass Speed: 72
Shot Accuracy: 83
Shot Power: 84
Shot Technique: 84
Free Kick Accuracy: 62
Curling: 66
Header:

78


Jump: 85
Technique: 82
Aggression:

87


Mentality: 84
Goalkeeper Skills: 50
Team Work:

76



Injury Tolerance: B
Condition:

6


Weak Foot Accuracy: 7
Weak Foot frequency: 6
Consistency: 5
Growth type: Late Lasting

CARDS:
S23 - Super-Sub
P13 - Goal Poacher

SPECIAL ABILITIES: Positioning - Dribbling

Attack/Defence Awareness Card: Attack Minded
Quote:
Roger Milla, the Indomitable Lion marked the history of world and African football. With his famous dance, crazy dribbling and extraordinary physique, the old Lion has written one of the greatest stories in continental football. Good dribbler and fiery striker. His journey ends in Montpellier, a club where he will finally feel good and that he will give the full measure of his talent as a dribbler and scorer. Indeed, he plants 18 goals and will be D2 champion in 1987. The following year, La Paillade finished third in the championship with the best attack (68 goals). The tireless Cameroonian, meanwhile, once again finished the club's top scorer with fifteen goals. He became a national hero, his dazzling starts, his devastating dribbling and his vision of the game work wonders.