Name:

Jürgen

Croy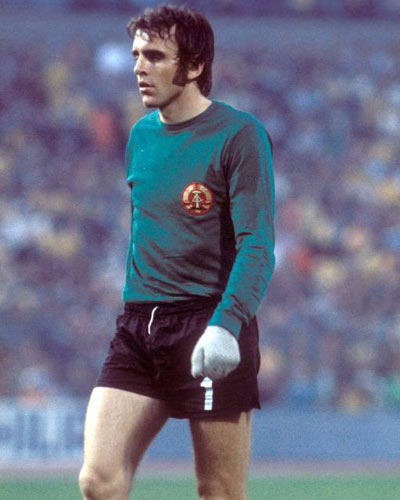 Country:
Germany (
East Germany at the time)
Club: FSV Zwickau
Position: *
GK
Side: RF/BS
Age: 24-32 years (19/10/1946)
Height: 186 cm
Weight: 85 kg
Attack: 30
Defence:
95
Balance:
87
Stamina: 65
Top Speed: 68
Acceleration: 69
Response:
95
Agility:
78
Dribble Accuracy: 55
Dribble Speed: 54
Short Pass Accuracy: 56
Short Pass Speed: 58
Long Pass Accuracy: 64
Long Pass Speed: 67
Shot Accuracy: 48
Shot Power:
85
Shot Technique: 47
Free Kick Accuracy: 45
Curling: 47
Header: 49
Jump:
82
Technique: 64
Aggression: 63
Mentality:
84
Keeper Skills:
91
Team Work:
77
Injury Tolerance:
B
Condition/Fitness:
8
Weak Foot Accuracy: 4
Weak Foot Frequency: 4
Growth Type: Early Lasting
CARDS:
S12:
1-on-1 Keeper
SPECIAL ABILITIES:
1on1 Stopper
Attack / Defence Awareness Card: Balanced
INFO:
Jürgen
Croy
is former goalkeeper from East Germany and one of the greatest keepers the game has ever seen, as well as the most underrated one alongside Ronnie Hellstrom of Sweden.
Croy
started to play as a midfielder in his youth, than moved to goal. That's why he was good in not-keeping duties, safe with the ball with solid passing skills and good pace. He was excellent in positioning on line, very fast in reflexes, althletic built and strong, good when leaving the goal line and very calm under pressure as well as good comanding in the box.
Jürgen
Croy
is something of an unsung hero in the world of goalkeepers. Chances are that you've probably never heard of him, but had he born on the other side of the Wall he could have very well been playing in the 1974 World Cup Final instead of Sepp Maier - he was that good. Born in the city of Zwickau,
Croy
spent his entire career with his hometown club, BSG Sachsenring Zwickau (now known as FSV Zwickau), playing nearly 400 top flight matches. He earned his first international cap at the tender age of twenty and kept a clean sheet as East Germany beat Sweden 1-0 and would go on to play 94 times for his country in an international career spanning fourteen years, keeping another clean sheet in his last appearance at the age of 34 against Cuba. But it was during the 1974 World Cup Finals that
Croy
came to the attention of the football world.
Drawn in the same group as their neighbours, the East Germans - with their outdated blue shirts with GDR emblazoned on the front - upset the form book by beating their counterparts from the West 1-0 in the final game to top the group. And although they were eventually undone by Brazil and Holland in the next round, they went home with their heads held high. None more so than
Croy
, who, with his excellent saves and reflex reactions, had captured the admiring glances of many. It was during this period that
Croy
was at his best and experienced the most success. The 1974 team had built upon the foundations laid by the Olympic squad of 1972, who had walked away with the Bronze medal in Munich, and in 1976 they went all the way and won Gold at Montreal. On the domestic front,
Croy
won his second East German Cup Final with BSG in 1975, enjoying a run to the Semi-Final of the Cup Winners' Cup the following season. And it was during this period that the outstanding shot stopper was elected East German Football of the Year three times, in 1972, '76 and '78, not to mention being awarded the title of Honorary Citizen of the city of Zwickau in 1976. Despite winning the East German Cup in 1967 and 1975, the dominance of teams like Dynamo Dresden and FC Carl Zeiss Jena restricted
Croy
's opportunities to shine in European competitions, which partly goes someway to explaining his partial anonymity in the West. However, his ability to stay at the top of his game earned him rave reviews in both the East and West German media and he deservedly made the Top Fifty of the International Federation of Football History and Statistics' Goalkeepers of the Century, many experts put him among 5-6 greatest keepers in history.