Name: Vladislav Bogićević

Nickname: "Bleki"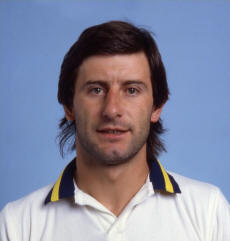 Country:
Serbia
Club: New York Cosmos
Position: *
CMF
,
DMF
,
CWP
,
CB
Side: LF/BS
Age: 28-32 years (07/11/1950)
Height: 185 cm
Weight: 81 kg
Attack:
81
Defence: 73
Balance:
85
Stamina:
81
Top Speed:
79
Acceleration:
77
Response:
78
Agility:
75
Dribble Accuracy:
84
Dribble Speed:
75
Short Pass Accuracy:
87
Short Pass Speed:
78
Long Pass Accuracy:
88
Long Pass Speed:
80
Shot Accuracy:
75
Shot Power:
84
Shot Technique:
77
Free Kick Accuracy:
77
Curling:
79
Header:
78
Jump:
77
Technique:
86
Aggression:
75
Mentality:
76
Keeper Skills: 50
Team Work:
83
Injury Tolerance:
B
Condition/Fitness: 5
Weak Foot Accuracy: 5
Weak Foot Frequency: 5
Growth Type: Stanard Lasting
CARDS:
P08:
Pinpoint Pass
S02:
Passer
S05:
1-touch play
SPECIAL ABILITIES:
Playmaking - Passing - Centre - 1 touch Pass
Attack / Defence Awareness Card: Balanced
INFO:
Vladislav Bogićević is former Serbian player and Cosmos's midfield general. Bleki, as he was known in Yugoslavia or Boogie in USA, broke all the assists record in NASL and is all time leading assist-man in NASL, which was especially useful for Giorgio Chinaglia who scored hundreds of goals on Bogićević's assists. Bogićević played as a libero for Red Star Belgrade and even German scouts were coming to Belgrade to watch him in order to prepare Franz Beckenbauer for take over the sweepers's rolein German NT since Schnellinger was about to retire. I think this fact says a lot about the quality of this player. But in Cosmos he played mostly as a midfield playmaker together with Beckenbauer. His role was similar like Pirlo's role nowadays. He would usually receive the ball in the middle of the pitch from Rijsbergen and distributed it forward. Bogićević's play was let's say "economic", on lot occassions he seemed uninterested on what's situation on the pitch, neither move a lot at that moments, But than suddenly he'd make some superb pass or move, he always knew what to do and when to do it. Somethig like Berbatov, he knew he could play better but he didn't want sometimes to do it. I must say he was a weird guy, like an old bohemian. There are few anegdotes about him in this region. One of them says: When he was called to play for NT, he would usually saluted his teammates after he arrived at hotel something like this: "Hello doctor Džajo (Dragan Džajić), hello maestro Moca (Momčilo Vukotić) and hello to you all other runners". There is also a story of Bogićević driving the NT bus, some other claim that he stole that bus and drove around the city of Split. But on the pitch he was very talented player with solid physicall strength, great tactical knowledge, good work od his brain and legs and off course great technique and passing range. He was especially famous for his back heel passes which he performed brillantly. His name was even used as a synonym for that great passing skill and move. The All-time NASL assists leader, with 147 assists in 203 games over his 7 seasons with the New york Cosmos, Bogićević was the finest midfielder in the history of the NASL. A solid mainstay of the cosmos during their banner years, Bugicevic was a central player in the cosmos's Soccer Bowl champion teams of 1978, 1980 and 1982, played in the final in 1981, and was named to five First All-Star teams. He scored in his first game, during the Cosmos's 7-0 hammering of a hapless Ft.Lauderdale. Vladislav Bogicevic made his pro debut at age 15 for Red star Belgrade and during his 13 years with the club, played 503 games during which he helped the team win five League Championships. He was capped 23 times for the National Team, playing in all but one of their 1974 World Cup matches."Bogie" was named to either the first or second team all-star team in each of his seven NASL seasons (second team in 1978 and 1979, and first team in 1980, 1981, 1982, 1983, and 1984). Bogićević was inducted into the U.S. National Soccer Hall of Fame on October 14, 2002.