Name: Bruce Alec Wilson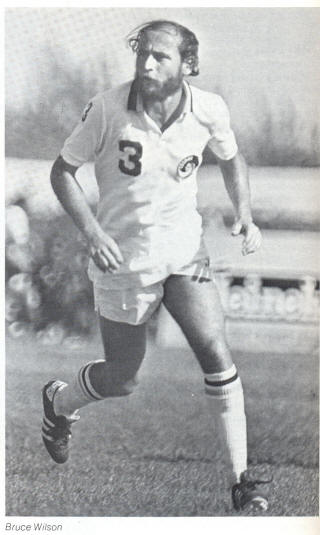 Country:
Canada
Clubs: Vancouver Whitecaps (1974-1977), Chicago Sting (1978-1980), New York Cosmos (1980)
Position: *
SB
,
CB
Side: LF/LS
Age: 23-29 years (20/06/1951)
Height: 178 cm
Weight: 74 kg
Attack: 64
Defence:
81
Balance:
84
Stamina:
81
Top Speed:
82
Acceleration:
79
Response:
80
Agility:
77
Dribble Accuracy: 72
Dribble Speed:
75
Short Pass Accuracy: 74
Short Pass Speed: 72
Long Pass Accuracy:
75
Long Pass Speed:
76
Shot Accuracy: 63
Shot Power:
81
Shot Technique: 62
Free Kick Accuracy: 64
Curling: 70
Header:
77
Jump:
83
Technique: 74
Aggression: 62
Mentality:
83
Keeper Skills: 50
Team Work:
78
Injury Tolerance:
A
Condition/Fitness:
8
Weak Foot Accuracy: 5
Weak Foot Frequency: 5
Growth Type: Early Lasting
CARDS:
P02:
Deep Cover
S08:
Slide Tackle
SPECIAL ABILITIES:
Sliding
Attack / Defence Awarenees Card: Defence Minded
INFO:
Bruce Wilson is the greatest player in Canadian history. He was widely regarded as the ultra defensive player. But from the matches I watched he did sometimes join the attack, although it was very rare. But when he did go little bit forward, he showed solid skills especially in sending useful long passes with good curle in it. He surely wasn't a genius but he showed good work in defensive duties, especially in well timed tackles, ha also had solid speed. Wilson was physically on very high level and always was very confident in his moves.
A native of Vancouver, B.C., Wilson played in local soccer leagues throughout his youth. He started his senior amateur career with Vancouver Columbus in the Western Canada Premier Soccer League before being selected to the B.C. All-Star team which, in 1970, competed inter-provincially for the Challenge Cup. Wilson turned down an offer to try out for the English professional leagues in order to pursue a degree in education at UBC, but, upon graduating in 1974, he decided to try his luck in the world of professional soccer on this side of the Atlantic. Offers came quickly. That same year, he was named to the Canadian national soccer team and selected to play with the Vancouver Whitecaps of the North American Soccer League.
Wilson enjoyed a successful ten year career in the NASL, playing with the Whitecaps until 1977, the Chicago Sting from 1978 to 1980, the New York Cosmos in 1980, and the Toronto Blizzard from 1981 to 1984. In this time, he captained three of these teams and helped the Cosmos claim the Soccer Bowl in 1980.
A true "Iron Man" on the field, Wilson played every minute of every league and playoff game over a six-year span, including a record 161 consecutive games between 1975 and 1980.
This brilliant defenseman was also the first Canadian-born player to be selected to the North American Soccer League all-star team. He received this honour in five of his eleven seasons in play.
In his role as captain of the Canadian national team, Wilson was often described as a "role model" and a "spiritual leader" both on and off the field. He took the helm in 1976 and, over the next ten years, helped forge new ground on the international soccer scene for the Canadian underdogs. In 1984, he led his team to the quarter-finals at the Los Angeles Olympics and, in 1986, he helped Canada qualify for the World Cup for the first time. This thrilling accomplishment was the highlight of Wilson's career. Though the team didn't make it past the first round, simply reaching the World Cup provided a significant boost to Canada's international reputation in a sport traditionally dominated by teams from Europe and Latin America.
For his outstanding skills on the field as well as his devotion to the development of the sport in Canada, Wilson was inducted into the Canadian Soccer Hall of Fame in 2000. He is also one of only a few Canadians to be named to the U.S. National soccer Hall of Fame. He was the lone Canadian player elected to the CONCACAF (Confederation of North, Central American and Caribbean Association Football) "Team of the Century".