Name: Anders Linderoth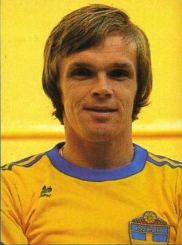 Country:
Sweden
Clubs: Osters IF (1976-1977), Olympique de Marseille (1977-1980)
Position: *
CMF
,
AMF
Side: RF/BS
Age: 26-30 years (21/03/1950)
Height: 170 cm
Weight: 67 kg
Attack:
79
Defence:
57
Balance:
79
Stamina:
83
Top Speed:
76
Acceleration:
81
Response:
78
Agility:
81
Dribble Accuracy:
87
Dribble Speed:
79
Short Pass Accuracy:
88
Short Pass Speed:
80
Long Pass Accuracy:
83
Long Pass Speed:
78
Shot Accuracy:
75
Shot Power:
81
Shot Technique:
75
Free Kick Accuracy:
71
Curling:
77
Header:
67
Jump:
73
Technique:
86
Aggression:
75
Mentality:
80
Keeper Skills:
50
Team Work:
88
Injury Tolerance:
B
Condition/Fitness:
6
Weak Foot Accuracy:
5
Weak Foot Frequency:
5
Consistency:
5
Growth Type:
Standard
CARDS:
P
20: Talisman
S
02: Passer
S
05: 1-touch Play
S
16: 1-footed Roulette
SPECIAL ABILITIES:
Playmaking - 1 touch Pass - Passing
Attack / Defence Awareness Card:
Balanced
INFO:
Anders Linderoth is former Swedish midfielder. He was small and talented player with good passing and vision to make great pass mainly on the short area, besides he was good runner and technician. Linderoth began playing football in 1955 Näsby IF. In 1962 he moved to Stattena IF, before he graduated from Helsingborg IF his professional debut in Division 1. In 1971 he went to Osters IF in the Allsvenskan. Here he was soon one of the leading players of the club and created the game. In 1976 he was awarded the Guldbollen as Sweden's Footballer of the Year. A year later, by a 1-0 finals victory in Superettan against Hammarby IF, the first title win. That same year he moved to Olympique Marseille in the Ligue 1 In 1980 he returned to Sweden and took up for Mjällby AIF in the Allsvenskan. However, the association grew from a table in the last division 1. Then he returned to his hometown club Näsby IF, where he worked until 1984 as player-coach. Linderoth was 1972-1980 to 40 times for the Swedish national team. Here he scored two goals. He was at the 1978 World Cup squad, and came to Sweden in all three matches. In 1984 he returned as coach to Mjällby AIF, before he took an engagement at IFK Hässleholm. IF Elfsborg with him came in 1996 the championship in Division 1 and thus the rise in the Allsvenskan. In 1999 he went to Norway to take care of Stabæk IF. In 2001 he took over Hammarby IF. By 2006 he was working at the club, he now oversees the Danish side Viborg FF in the Superligaen. Anders Linderoth is the father of Swedish midfielder Tobias Linderoth, who played at the beginning of his career at the club managed by his father.