Name: Bengt Ove Kindvall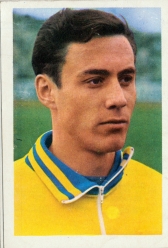 Country:
Sweden
Clubs: Feyenoord Rotterdam (1968-1971), IFK Norrköping (1971-1974)
Position: *
CF
,
SS
,
AMF
Side: RF/BS
Age: 25-31 years (16/05/1943)
Height: 176 cm
Weight: 69 kg
Attack:
92
Defence: 40
Balance:
79
Stamina:
80
Top Speed:
85
Acceleration:
92
Response:
87
Agility:
84
Dribble Accuracy:
83
Dribble Speed:
84
Short Pass Accuracy:
77
Short Pass Speed:
76
Long Pass Accuracy:
75
Long Pass Speed:
75
Shot Accuracy:
90
Shot Power:
83
Shot Technique:
87
Free Kick Accuracy: 68
Curling: 73
Header:
81
Jump:
84
Technique:
83
Aggression:
89
Mentality:
76
Keeper Skills: 50
Team Work:
78
Injury Tolerance:
B
Condition/Fitness:
6
Weak Foot Accuracy:
6
Weak Foot Frequency:
6
Growth Type: Standard
CARDS:
P17:
Free Roaming
S01:
Reaction
S03:
1-on-1 Finish
S05:
1-touch Play
SPECIAL ABILITIES:
Positioning - Scoring - Reaction - 1 on 1 Scoring - 1 touch Pass
Attack / Defence Awareness Card: Attack Minded
INFO:
Alongside Van Hanegem, the best player in Feyenoord's history. Kindvall was a player with fantastic sense for a goal and real danger in the box. Besides had fantastic acceleration, in first 10 meters his speed was amazing. He was occassionally used even in deep lying striker position but even as a attacking midfielder, especially in NT matches, since Sweden had and still has eternal problem of lacking good creative midfielders since Gren and Liedholm era. He was part of the Feyenoord side in 1970 which won European Cup (against Celtic) and the Intercontinental Cup (against Estudiantes de la Plata). During a European Cup Final he scored the decisive goal. Kindvall is regarded by many as the best striker that ever played for Feyenoord. The Swede scored in 144 league games for the club he played 129 goals, an average of 0.9 goals per match. For a long time he was the size by which was measured every Feyenoord striker. In 1971 he returned to Sweden, from 1971 to 1974 he played for IFK Norrköping and ended his career with IFK Gothenburg in the 1974-1975 season. Kindvall also played in the Swedish national team. He participated in the 1970 World Cup in Mexico and the World Cup 1974 in then West Germany. In total he played 43 matches for the Swedish national team and scored sixteen goals. His son Niclas Kindvall also played professional football, including for Hamburger SV. In 1966 he won the Guldbollen, as the best Swedish footballer of the year. Ove Kindvall is a legend not only for Feyenoord supporters, but especially for the strikers with a mission to succeed him. One by one they were burdened by the legacy of the prolific Swedish center forward.