Name: Hristo Atanasov Bonev

Nickname: "Zuma"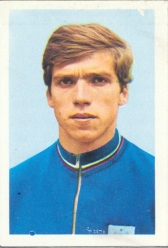 Country:
Bulgaria
Club: PFC Lokomotiv Plovdiv
Position: *
AMF
,
CMF
,
SS
Side: RF/BS
Age: 23-27 years (03/02/1947)
Height: 181 cm
Weight: 78 kg
Attack:
88
Defence: 50
Balance:
82
Stamina:
82
Top Speed:
83
Acceleration:
84
Response:
81
Agility:
83
Dribble Accuracy:
91
Dribble Speed:
84
Short Pass Accuracy:
89
Short Pass Speed:
85
Long Pass Accuracy:
91
Long Pass Speed:
91
Shot Accuracy:
86
Shot Power:
85
Shot Technique:
84
Free Kick Accuracy:
85
Curling:
90
Header:
75
Jump:
76
Technique:
92
Aggression:
84
Mentality:
78
Keeper Skills: 50
Team Work:
84
Injury Tolerance:
B
Condition/Fitness:
6
Weak Foot Accuracy:
6
Weak Foot Frequency: 5
Growth Type: Early Lasting
CARDS:
P05:
Trickster
P07:
Mazing Run
P12:
Incisive Run
P17:
Free Roaming
S02:
Passer
S04:
PK Taker
S05:
1-touch Play
S06:
Outside Curve
S14:
Quick Turn
S16:
1-footed Roulette
S18:
Cross Over Turn
SPECIAL ABILITIES:
Dribbling - Playmaking - Penalties - 1 touch Pass - Outside - Tactical Dribble - Passing
Attack / Defence Awareness Card: Balanced
INFO:
Hristo Bonev is real legend, the most complete midfielder in Bulgaria's history and great scorer as well. Player of fantastic footwork and vision, real modern type of midfield playmakers. He was especially good in sending good long balls hit so hard and was good in taking free kicks with superb curle. Bonev also had strong shot, in 1979 he scored 40 meter goal against Argentina and Ubaldo Filllol. He played as a midfielder for Lokomotiv (Sofia) (1963-1967, 1968-1979 and 1982-1984), CSKA (1967-1968) and AEK (Greece) (1980-1982). Winner of the Bulgarian Cup in 1983 with Lokomotiv (Plovdiv). Champion with CSKA in 1968 and in 1973 with Lokomotiv (Plovdiv). Bronze medalist in 1969 and 1974 with Lokomotiv (Plovdiv). In first division has 410 matches (404 for Lokomotiv (Pd) and 6 for CSKA) and 185 goals (180 for Lokomotiv (Pd) and 5 for CSKA).In UEFA Cup has 14 games and 6 goals for Lokomotiv (Plovdiv). In Bulgaria's national team made his debut on March 22, 1967 against West Germany 0:1 in Hannover, and his last match was on April 25, 1979 1:2 against Argentina in Buenos Aires (author of goals). Altogether there are 98 games (second place) and 47 goals, 42 times as captain. Participated on WC 1970 in Mexico (played in 3 matches and scored a goal against Peru) and WC 1974 in West Germany (played in 3 matches and scored a goal against Uruguay). Footballer № 1 in Bulgaria in 1969, 1972 and 1973. Cup Winner individual sportsmanship in 1976 Honoured Master of Sports since 1967 and graduated VIF coaching school in Cologne. Included in the top 30 team this decade (1944 to 1974 on). Participated in the farewell match of Lev Yashin in 1971 in Moscow. One of the greatest Bulgarian football players of all time, ranks third in the poll for the Bulgarian Footballer of the 20 century. His game had everything: dribble, pass and an excellent shot. He is a master of free kicks,and motor of all actions in the team. Bonev's farewell match was held on September 16, 1984 in Plovdiv, where many stars came as Bobby Moore, Wolfgang Overath, Jan Tomaszevski, Siegfried Sholtishik, Ferenc Bene, and coaches are Stefan Kovacs, Rajko Mitić. Guest is Lev Yashin. Later he became coach of Lokomotiv (Plovdiv), assistant coach of the national team in 1987-1988, Panathinaikos from 1988 to 1990 (champion in 1990), Larissa from 1990 to 1993, Yonikos in 1993-1994, Apoel (Cyprus) from 1994 to 1996 From 1996 to 1998 led the national team as it qualified for the SP-1998 in France and from 1997 to 1998 and was coach of Lokomotiv (Sofia). In 2000 the head of Germany's Sachs. Right now he is sport and technical director of Lokomotiv (Plovdiv). In 2007 he was awarded by Georgi Parvanov with the Order of Stara Planina first degree for his outstanding contribution to the development of physical education and sport.