Name: Ramón Antonio Mifflin Páez

Nickname: "El Cabezón"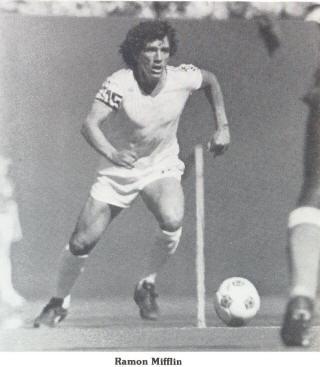 Country:
Peru
Clubs: Sporting Cristal (1970-1973), Racing Club (1973-1974), Santos F.C. (1974-1975), New York Cosmos (1975-1978)
Position: *
CMF
,
DMF
,
AMF
Side: RF/BS
Age: 23-31 years (05/04/1947)
Height: 167 cm
Weight: 70 kg
Attack:
82
Defence: 67
Balance:
76
Stamina:
82
Top Speed:
79
Acceleration:
84
Response:
76
Agility:
85
Dribble Accuracy:
85
Dribble Speed:
81
Short Pass Accuracy:
90
Short Pass Speed:
81
Long Pass Accuracy:
86
Long Pass Speed:
78
Shot Accuracy:
75
Shot Power:
81
Shot Technique:
78
Free Kick Accuracy:
76
Curling:
82
Header: 69
Jump: 73
Technique:
89
Aggression:
75
Mentality:
78
Keeper Skills: 50
Team Work:
85
Injury Tolerance:
B
Condition/Fitness:
6
Weak Foot Accuracy:
6
Weak Foot frequency: 4
Growth Type: Standard
CARDS:
P20:
Talisman
S02:
Passer
S05:
1-touch play
SPECIAL ABILITIES:
Playmaking - Passing - 1 touch Pass
Attack / Defence Awareness Card: Defence Minded
INFO:
Ramón Mifflin was former Peruvian midfielder. Mifflin was a player with superb technique and great vision, he acted as a modern day Pirlo but not so good in passing but more faster, with better defensive work although of small stature and far better in ball recuperations than Pirlo. He was notorious for his "night life" and other off-field activities. His first teams were Centro Iqueno and Defensor Arica. Than he moved on to Sporting Cristal in 1966 and stayed till 1973. After that he moved in abroad to Racing Club, than in Santos and later to New York Cosmos. He won Peruvian league 5 times, in 1968, 1970, 1972, 1979, 1980 and NASL league 2 times, in 1976 and 1977. Mifflin finished his career with Independiente Santa Fe in 1981. For the Peruvian NT Mifflin collected 44 caps. He was part of Golden generation of Peruvian football which shined during the 70's. Miflin played on World Cup 1970 and had excellent form during competition, in match against Brazil he did job in marking and chasing Pele all over the pitch. After the game they changed their jerseys and became friends. Few years later it was Pele who suggested the Cosmos officials to sign Ramon Mifflin and he had good time there, playing more offensive than on World Cup 1970. After his retirement Mifflin works as a coach. Mifflin was accused for drug dealing and connection with the Argentinian drug cartel.