Name: José Luis Capón González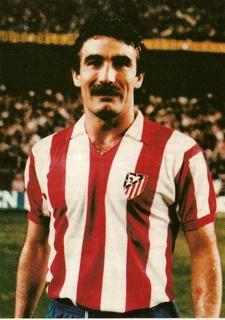 Country:
Spain
Club: Club Atlético de Madrid
Position: *
SB
,
DMF
Side: RF/BS (mainly left side)
Age: 25-29 years (06/02/1948)
Height: 175 cm
Weight: 72 kg
Attack:
74
Defence:
67
Balance:
79
Stamina:
85
Top Speed:
84
Acceleration:
82
Response:
77
Agility:
82
Dribble Accuracy:
76
Dribble Speed:
83
Short Pass Accuracy:
77
Short Pass Speed:
75
Long Pass Accuracy:
77
Long Pass Speed:
79
Shot Accuracy:
66
Shot Power:
81
Shot Technique:
69
Free Kick Accuracy:
65
Curling:
73
Header:
77
Jump:
82
Technique:
79
Aggression:
81
Mentality:
83
Keeper Skills:
50
Team Work:
79
Injury Tolerance:
B
Condition/Fitness:
6
Weak Foot Accuracy:
6
Weak Foot Frequency:
7
Consistency:
6
Growth Type:
Standard
CARDS:
P
01 Overlapping Run
SPECIAL ABILITIES:
Side
Attack / Defence Awareness Card: Balanced
INFO:
Former Atletico defender. Capón played principally as left back but occassionally he played also on the right full back position as well as in central midfield. He was endurable and offensive side back, with good pace and short passing, pretty mobile and agile, with decent strength and soild ball control. But sometimes rushing unneceserry with quick ball transition which led often to inaccurate passes. José Luis González Capon was born February 6, 1948 in Madrid. In the summer of 1969, joined the At.Madrid Capon from the Plus Ultra. After Reyfra Athletic foguearse in subsidiary mattress, Capon managed to grab a place in the first team, although he was loaned to Burgos in the campaign 1971/1972 to complete his training. From the season 1972/1973, Capon triumphed at left where large Isacio replaced Calleja; sometimes played as right-back. With At.Madrid, Madrid defender played 269 official matches making 8 goals: 200 League (7 goals), 34 Cup, 33 of European competitions (one target) and 2 Intercontinental Cup. In addition, the mattress side dressed on 13 occasions the Spanish team jersey, his debut was held on November 24, 1973 in West Germany 2 Spain 1. In the summer of 1980, Capon At.Madrid left to play for Elche (Second Division "A") where he finished his sporting life. The November 25, 1980, was held Capon tribute match. That day, the At.Madrid lost 3-0 against the USSR (Union of Soviet Socialist Republics) before some 5,000 spectators at the Vicente Calderon Stadium on a cold Wednesday night, rainy and live Spanish TV; Capon received the Silver Medal for Sports Merit. This day has gone down in history At.Madrid for the following reason: it assumes the last meeting homage paid by the entity to a footballer Madrid. Capon accumulated an excellent record during his time at the club on the banks of the Manzanares 3 Leagues (1969/1970, 1972/1973 and 1976/1977), 1 Cup of Spain (1976), 1 Intercontinental Cup (1975), 1 Subcampeonato European Cup (1974), another League (1973/1974) and a Cup (1975) and a semifinal of the European Cup (1971) and Cup Winners' Cup (1977). The Atletico fans still remember climbing Capon bands Vicente Calderon with his hair in the wind and his thick mustache.