KONAMI STATS
Name: Pieter Robert ("Rob") Rensenbrink

Nickname: "The Snakeman", "Contortionist"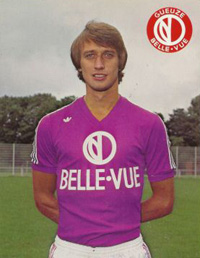 Country:
Netherlands
Club: RSC Anderlecht
Position: *

WF

,

CF

,

SS

,

SMF


Side: LF/LS
Age: 27-31 years (03/07/1947)

Height: 178 cm
Weight: 76 kg

Attack: 87
Defence: 54
Balance: 77
Stamina: 83
Top Speed: 85
Acceleration: 87
Response: 78
Agility: 87
Dribble Accuracy: 91
Dribble Speed: 84
Short Pass Accuracy: 83
Short Pass Speed: 79
Long Pass Accuracy: 82
Long Pass Speed: 78
Shot Accuracy: 83
Shot Power: 85
Shot Technique: 80
Free Kick Accuracy: 77
Curling: 75
Header: 82
Jump: 82
Technique: 88
Aggression: 89
Mentality: 76
Goalkeeper Skills: 50
Team Work: 82

Injury Tolerance: B
Condition: 6
Weak Foot Accuracy: 4
Weak Foot Frequency: 4
Consistency: 6
Growth Type: Standard/Lasting

CARDS:
S01 - Marauding
S04 - PK Taker
S15 - Shoulder Feint Skills
S18 - Turning Skills
S22 - Side Stepping Skills
P05 - Mazing Run

SPECIAL ABILITIES: Dribbling - Positioning - Reaction - Penalties - Outside

Attack/Defence Awareness Card: Attack MindedINFO:
One of the most under-rated players of the 1970's, Dutch forward Rob Rensenbrink – nickname The Snakeman or the Contortionist – had a bit of everything in his game. An intelligent left footer with a fantastic touch, he was tall enough to be used as a traditional centre forward yet possessed a great dribbling technique that meant he could also play out wide, where he was more than capable of leaving 2 or 3 defenders bamboozled in his wake. He probably wasn't as good a finisher as strike partner Johny Rep, but his overall game was better – his movement off the ball was excellent, often baffling the opposition with some of his runs and ability to find space. It's hard to believe he didn't reach 50 caps for the national team, and this is often put down to the fact that he left Holland to play in Belgium for almost his entire career, and that in the early 1970's the 'Royal Pair' of Cruyff and Piet Keizer was the preferred option up front for de Oranje.