Name: Siegmar Wätzlich

Nickname: "Wätzer"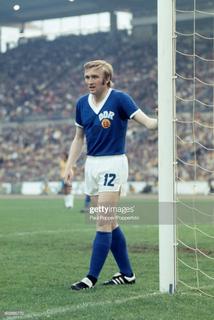 Country:
Germany
(
East Germany at the time
)
Club:
SG Dynamo Dresden
Position: *
SB
,
CB
Side:
LF/LS
Age:
22-27 years (16/11/1947)
Height:
176 cm
Weight:
72 kg
Attack:
73
Defence:
77
Balance:
84
Stamina:
84
Top Speed:
81
Acceleration:
83
Response:
80
Agility:
79
Dribble Accuracy:
78
Dribble Speed:
76
Short Pass Accuracy:
77
Short Pass Speed:
76
Long Pass Accuracy:
78
Long Pass Speed:
83
Shot Accuracy:
71
Shot Power:
87
Shot Technique:
71
Free Kick Accuracy:
72
Curling:
76
Header:
75
Jump:
81
Technique:
77
Aggression:
78
Mentality:
82
Goalkeeper Skills:
50
Team Work:
80
Injury Tolerance:
C
Condition/Fitness:
6
Weak Foot Accuracy:
6
Weak Foot Frequency:
6
Consistency:
5
Growth type:
Standard

CARDS:
P13:
Long Ranger
S04:
PK Taker
SPECIAL ABILITIES:
Middle Shooting - Penalties
Attack/Defence Awareness Card:
Balanced
INFO:
Former defender of Dynamo Dresden whose career was hammered by the numerous injuries. Siegmar played as left back and centre back, known for his strong and tenacious style of play which sometimes used to turn into violent. He was powerful and athletic defender with good dribbling skills and very strong shot with whom he struck penalties efficiently, even send pacy crosses. As a full-back, he was in the 70s, an important part of successful teams in the history of Dynamo. In 1973 he defeated the legendary Sepp Maier in goal for FC Bayern Munich. A year later, he stood on the court, as Jürgen saving water shocked the eventual champions to Franz Beckenbauer with his goal in a 1-0 victory in the World Cup preliminary round game. The footballing career of Sigmar Wätzlich started at SG Rammenau before he came to Dynamo in 1965. After two years in Dresden's youth played the 1.76 meter tall defensive player in 1967 for the first team in the GDR Oberliga, scoring ten goals in 139 league games. In his first season, he completed all 26 league games, but could not prevent relegation to the second division. His European Cup debut in the native rams also Auer 1967: the 1-1 in the Fairs Cup home game against the Rangers he was in the first game of the EC- Black - Yellow at all on the lawn. When furious comeback in the 1968/69 season, as the dynamo of 30 disputes only three lost, denied Wätzlich injury just 17 games. Also in the next two seasons, the left -back was not spared from injury and could afford to winning the double 1970/71 in only six games a contribution. The playing times it remained the trained butcher from injuries spared and was an integral part of the defense bar to "Dixie" Doerner and Frank Ganzera. In 1973 celebrated " Wätzer " his second East German championship with only two defeats in the entire season. In the UEFA Cup, the team reached the quarter-finals, where Wätzlich and Co. dropped out after two memorable games against Kevin Keegan Liverpool FC. Unforgettable are also " Wätzers " both games in the quarter- final of the European Champions' Cup in 1973/74 against FC Bayern Munich. Despite his goal against Germany's century goalkeeper Sepp Maier and great comeback in the second leg Dynamo different narrowest of margins ( 3:4 ; 3:3 ) against the Star Force to Gerd Müller. In his last premier league 1975/76 season he was able to contribute only ten games to win the championship again because a meniscus injury forced him to a premature end career. Sigmar Wätzlich played 24 A- internationals for East Germany. His first game he completed the victory against Ghana in the final round of the Olympic tournament in 1972, which closed the communications selection by winning the bronze medal. Two years later he played in the World Cup finals in Germany the first four games - including the legendary 1-0 victory over West Germany - before once again stopped him an injury. After his playing days Wätzlich took over in 1977 along with his wife in his hometown Rammenau the restaurant his parents. In the 90 years ill the Dynamo legend of liver and kidneys, which is why he had to undergo two organ transplants. Since his recovery, he trained the first men's team of SV 1910 Edelweiss Rammenau , which currently plays in the county league .