Name: Ladislav Kuna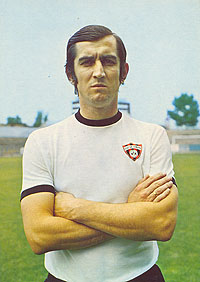 Country:
Slovakia
Club: FC Spartak Trnava
Position: *
CMF
,
DMF
,
AMF
,
CB
Side: LF/BS
Age: 21-26 years (03/04/1947)
Height: 180 cm
Weight: 80 kg
Attack:
81
Defence: 68
Balance:
82
Stamina:
81
Top Speed:
79
Acceleration:
76
Response:
80
Agility:
75
Dribble Accuracy:
86
Dribble Speed:
75
Short Pass Accuracy:
88
Short Pass Speed:
80
Long Pass Accuracy:
85
Long Pass Speed:
78
Shot Accuracy:
78
Shot Power:
84
Shot Technique:
81
Free Kick Accuracy:
75
Curling:
77
Header:
85
Jump:
83
Technique:
88
Aggression:
75
Mentality:
80
Goalkeeper Skills: 50
Team Work:
87
Injury Tolerance:
B
Condition/Fitness:
7
Weak Foot Accuracy:
7
Weak Foot Frequency:
6
Growth type: Early Lasting
CARDS:
P05:
Trickster
P20:
Talisman
S02:
Passer
S05:
1-touch Play
SPECIAL ABILITIES:
Tactical Dribble - Playmaking - Passing - 1 touch Pass
Attack/Defence Awareness Card:
Balanced
INFO:
Legendary and one of the best Slovak players. Kuna was usually midfielder in 4-2-4 system but he could play also in defence as well. Great playmaker, technically gifted with good shot from distance, very good in heading with great vision and passing range but not too fast. Ladislav Kuna played in his youth for the club Slovan his birthplace Hlohovec. At 16 he was appointed by then-coach of Spartak Trnava, Anton Malatinský discovered. 1964 Kuna debuted in the 1st Czechoslovak league and made to 1980 424 top-flight appearances for Trnava, in which he scored 86 goals. With his team, the midfielder won in 1968, 1969, 1971, 1972 and 1973, the Czechoslovak championship, 1967, 1971 and 1975, the Czechoslovak Cup. Kuna was considered technically outstanding playmaker and as the "brain of the team" in the late 1960s and early 1970s dominated the Czechoslovakian football. In 1969 he was elected Czechoslovak Footballer of the Year. Feared were the long shots of the Slovaks, who decided many a game. From 1980 to 1983 he played for FC Admira / Wacker in the Austrian 1st Division, then one year in the SV calibration ditch, where he became a master of the Lower Austrian League (gaming community SV Eichgraben / SV Gablitz) and then another year at VSE St. Pölten. In the Czechoslovak national Kuna debuted with only 19 years on May 18, 1966., The Czechoslovak Socialist Republic was defeated here in Prague the USSR 1-2. He participated in the 1970 World Cup, his last game was the 0-3 defeat of Czechoslovakia against England on October 30, 1974 at Wembley Stadium. In the season 1984/85 kuna was as a player assistant coach Anton Malatinský VSE St. Pölten. After his return to Czechoslovakia in 1985, he also worked as an assistant coach at Spartak Trnava from 1988 to 1990 he was head coach there. Beginning of the 1990s Kuna again went to Austria and trained in 1991/92 VfB Mödling and in the following season 1992/93 the first SC Wiener Neustadt. End of the 1990s was the former midfielder coach at the former Slovakian second division PFK Piešťany, before the DAC Dunajská Streda coached from 1999 to 2001. In the summer of 2001 he went to ŽP Podbrezová, his last club as a coach was the MŠK Fomat Martin. He died in 2012.