Name: Jaroslav Pollák

Nickname: "Bobby"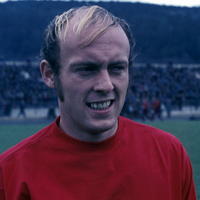 Country:
Slovakia
Club: MFK Košice
Position: *
DMF
,
CMF
Side: RF/BS
Age: 24-29 years (11/07/1947)
Height: 176 cm
Weight: 74 kg
Attack: 74
Defence:
78
Balance:
77
Stamina:
86
Top Speed:
81
Acceleration:
80
Response:
82
Agility:
79
Dribble Accuracy:
83
Dribble Speed:
75
Short Pass Accuracy:
85
Short Pass Speed:
80
Long Pass Accuracy:
83
Long Pass Speed:
79
Shot Accuracy: 70
Shot Power:
76
Shot Technique: 71
Free Kick Accuracy: 65
Curling:
75
Header:
75
Jump:
77
Technique:
84
Aggression: 73
Mentality:
83
Goalkeeper Skills: 50
Team Work:
87
Injury Tolerance:
B
Condition/Fitness:
8
Weak Foot Accuracy: 5
Weak Foot Frequency: 5
Growth type: Early Lasting
CARDS:
P20:
Talisman
S02:
Passer
S09:
Covering
SPECIAL ABILITIES:
Passing - Playmaking - Covering
Attack/Defence Awareness Card:
Balanced
INFO:
Regarded by many as one of the key players of Czechoslovakia NT in 70's. Pollak was midfielder, technically gifted and endurable player. Great technique and football thinking where his strong sides. His only weakness was shooting. He had good passing range and decent pace. Pollák only played an hour for Czechoslovakia at the 1976 UEFA European Championship finals before he was dismissed in the semi-final for an ill-timed tackle. Yet he had dominated the game, destabilising the Netherlands with his ceaseless industry and clever link-up play. Czechoslovakia won the trophy without him but there were many who regretted that Pollák, who also starred in qualifying games against England and the Soviet Union, was unable to make a greater contribution. Nicknamed 'Bobby' for his resemblance to Bobby Charlton – in both playing style and the thinning hair – Pollák won 49 caps. Born in Nizny Medzev. He was 18 years old, when he debuted in Premier league with VSS Kosice ( currently 1. FC Kosice ). He was said to leave 1. FC Kosice, but in the end he stayed loyal to the club for more then 10 years. His nickname was "Bobby" after Bobby Charlton, who was his idol. First time dressed Czechoslovak national dress jersey in 1968 ( Czechoslovakia - Brazil 3 : 2 ) and played in World cup 1970 (Mexico), where he was criticized for stereotype play and slow passing. He did not quit, got better, and in 1975 - 1976 was one of the best Czechoslovak representants. Played in European championship 1976 ( Yugoslavia ), where Czechoslovakia became European champion. After two years at Dukla Banská Bystrica Pollák changed in 1979 in the state capital to Sparta Prague. There was Bobby, as Pollák was called because of his playing style and the few hairs in style of Bobby Charlton, but only one and a half seasons. Beginning of 1981, the playmaker Austria Salzburg was committed for which he completed 65 Bundesliga games. 1983 Pollák returned back to Czechoslovakia and joined his old, meanwhile renamed ZŤS Košice and nurmehr second-rate club to. In the summer of 1988 Jaroslav Pollák ended with almost 41 years of his active career. In the first Czechoslovak league Pollák completed 418 games in which he scored 25 goals. His only title win at club level was the victory in the Czechoslovak Cup with Sparta Prague in the 1980. In the Czechoslovak national team Jaroslav Pollák debuted on June 23, 1968, Czechoslovakia defeated Brazil in Bratislava 3: 2nd On June 16, 1971, the Slovak shot with 4: 0 in Finland his only goal in the dress of the Czechoslovak Socialist Republic. Between 1973 and 1975, he disappeared from the national team, but announced in time for the 1976 European back. In winning for the Slovaks and Czechs final he was not able to participate more, he had seen the red card in the semi-final against Holland, but was overall one of the most important players of the Czechoslovak triumph. His last of 49 international matches made ​​Pollák on March 26, 1980, Czechoslovakia was defeated in Basel Switzerland, with 0: second Although he drove with the European Championships in Italy in 1980, but there was no longer used.