STATS BY JEANMARC & EL MAGO 10



Name: Feliciano Muñoz Rivilla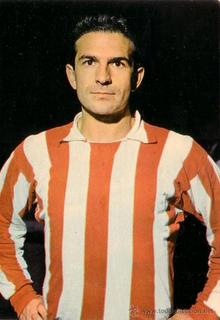 Country:
Spain
Club: Club Atlético de Madrid
Position: *
SB
,
WF
Side: RF/BS
Age: 25-28 years (21/08/1936)
Height: 170 cm
Weight: 67 kg
Attack:
75
Defence:
69
Balance:
77
Stamina:
83
Top Speed:
87
Acceleration:
84
Response:
75
Agility:
83
Dribble Accuracy:
81
Dribble Speed:
82
Short Pass Accuracy:
78
Short Pass Speed:
73
Long Pass Accuracy:
81
Long Pass Speed:
75
Shot Accuracy:
70
Shot Power:
81
Shot Technique:
70
Free Kick Accuracy:
67
Curling:
75
Header:
70
Jump:
76
Technique:
80
Aggression:
77
Mentality:
78
Keeper Skills:
50
Team Work:
81
Injury Tolerance:
B
Condition/Fitness:
7
Weak Foot Accuracy:
5
Weak Foot Frequency:
5
Consistency:
6
Growth Type:
Standard
CARDS:
P
01 Overlapping Run
S
13 Long Throw
SPECIAL ABILITIES:
Side - Long Throw
Attack / Defence Awareness Card: Balanced
INFO:
Feliciano Rivilla is legendary Atletico defender. He was right back although in early years he played as outside right and sometimes even as inside right. He could play as left back as well. Very fast player, explosive with good footwork, he could effectivly attack and defend, he was known for his offensive runs on the right flank, very agile and mobile. Able to make very good crosses and even long balls from defence. He had good dribbling as well, fast and with good close control. But in some games he didn't show at all that offensive play, speed, dribblings and crosses. Feliciano Rivilla was, together with his former teammates Jorge Griffa and Isacio Calleja probably the most important defense to date of Atlético Madrid. Together with the latter, he made a great "full-back pliers", which made it too much fame in the world of football. After his first steps in football, the defensive player moved at the age of 19 years to Madrid, where he was hired at the beginning of the second team of Real Madrid and then at Rayo Vallecano. After his apprenticeship away from the rojiblancos he celebrated on 21 September 1958 in the 2-4 defeat at Valencia made his debut in the red dress whites. With four goals against and Rivilla on the lawn then you summed up as a spectator an experience on what was to be repeated in the future any more. With three wins and a championship trophy in his time in the capital, he is still one of the most successful actors who were ever employed at the club. Of course, he also belonged to the team that triumphed in 1962 at the finals of the European Cup Winners Cup. Like its counterpart Rivilla was rare for technical showpiece, but also reduced his repertoire on the work of a defender at that time, so it is not surprising that in his entire career marked just seven hits in red and white. Over ten years he made his services available to you before he drew a line in 1968 and ended his career as a footballer at the age of 34 years. Because of his contributions to the club he bequeathed this in late 1969, yet a friendly match against Brazil's top club Santos, where he was able to prove his qualities one last time. In the Spanish national football team Rivilla was an absolutely integral part, because alongside his team-mate, he won the 1964 European Championship. The final 21 June 1964 at the Estadio Santiago Bernabéu decided the "Selección" with his Club Atlético coach José Villalonga Llorente goals from Pereda, Marcelino and 2-1 against the gates, led by goalkeeper Lev Yashin Soviet Union. Under his 26 international matches were also the two world championships in 1962 and 1966. Rivilla but only came in the 1962 World Cup in Chile once in the group stage match on 31 May Vina del Mar against eventual finalists Czechoslovakia used. He was not included in the group matches played in England in 1966 against Germany, Argentina and Switzerland. Meanwhile, the acts Atlético legend as Vice President of the Spanish Association of former national player.