STATS BY JEANMARC & EL MAGO 10



Name: Isacio Calleja García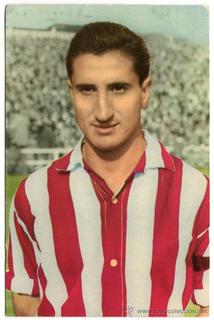 Country:
Spain
Club: Club Atlético de Madrid
Position: *
SB
Side: RF/LS
Age: 26-30 years (06/12/1936)
Height: 172 cm
Weight: 71 kg
Attack:
71
Defence:
77
Balance:
81
Stamina:
84
Top Speed:
83
Acceleration:
81
Response:
81
Agility:
81
Dribble Accuracy:
79
Dribble Speed:
81
Short Pass Accuracy:
75
Short Pass Speed:
73
Long Pass Accuracy:
79
Long Pass Speed:
81
Shot Accuracy:
64
Shot Power:
85
Shot Technique:
63
Free Kick Accuracy:
64
Curling:
73
Header:
76
Jump:
83
Technique:
76
Aggression:
73
Mentality:
87
Keeper Skills:
50
Team Work:
80
Injury Tolerance:
B
Condition/Fitness:
7
Weak Foot Accuracy:
7
Weak Foot Frequency:
7
Consistency:
7
Growth Type:
Standard Lasting
CARDS:
S
07 Man Marking
S
08 Slide Tackle
SPECIAL ABILITIES:
Side - Marking - Sliding
Attack / Defence Awareness Card: Balanced
INFO:
One of the greatest Atletico players, regarded as one of the best ever Spanish left backs. Calleja started his career as inside left but soon he started to play as the left back. Very endurable player, tough and strong but at the same time very elegant. He had good pace and could provide useful crosses, pretty offensive and with decent footwork, but didn't score too much thriughout his career, physically in perfect conditionds. Although known for his marking and physical attributes, he had solid dribbling and crosses so he could make very good attacking runs down the left flank often concluded with very strong shots from distance. Isacio Calleja García was born on December 6, 1936 in Valley Cerrato (Palencia). Before joining Atletico played for the Marist Brothers Palencia Palencia, Graphic Arts, School of Law, Almarod and Guadalajara. The mattress club signed him on July 1, 1958 for a whole amateur and debuted with the first team on January 4, 1959 in Oviedo 2 At.Madrid 1 National League Championship. Since then, it became a place in the team, first as an inside left and then at left. Calleja remained from the season 1958/1959 to 1971/1972 at Atletico with this accumulated achievements: 2 Leagues (1965/1966 and 1969/1970), 4 Cups (1960, 1961, 1965 and 1972), 1 Cup Winners Europe (1962), 3 runners League (1960/1961, 1962/1963 and 1964/1965), 1 runner-up in the Cup Winners Cup (1963) and a Cup (1964), two semi-finals of the European Cup (1958 / 1959 and 1970/1971) and a semi-final of the Fairs Cup (1964/1965). Also played 425 official matches Calleja (7 goals): 300 league games (fifth Atletico in history) scoring 6 goals, 76 in the Copa del Generalissimo (1 in both), and 49 in European competitions. In addition, the left-dressed thirteen times the Spanish team jersey with which they won the 1964 European Championship. The October 15, 1972, the At.Madrid won 2-1 to Independiente de Avellaneda (Argentina) in a nearly full Estadio Vicente Calderon. Atletico was reinforced with Marcial and Rexach (Barcelona), Viberti (Málaga), Zoco (R. Madrid) and Glaría (Spanish). Isacio Calleja received the Silver Medal of Sporting Merit Badge gold and diamond gifts Club and numerous clubs and entities. Calleja played a few minutes until he replaced Capon amid a heartfelt ovation from the red and white fans. He dismissed one of the best players in the history of At.Madrid.