Name: Francesco Janich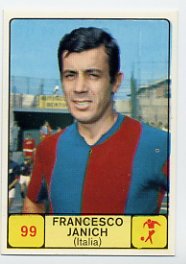 Country:
Italy
Club: Bologna FC 1909
Position: *
CWP
,
CB
Side: RF/BS
Age: 24-30 years (27/03/1937)
Height: 181 cm
Weight: 82 kg
Attack: 59
Defence:
88
Balance:
85
Stamina:
80
Top Speed:
76
Acceleration: 73
Response:
83
Agility: 72
Dribble Accuracy:
75
Dribble Speed: 70
Short Pass Accuracy:
75
Short Pass Speed: 72
Long Pass Accuracy:
75
Long Pass Speed:
76
Shot Accuracy: 62
Shot Power:
77
Shot Technique: 61
Free Kick Accuracy: 60
Curling: 63
Header:
82
Jump:
83
Technique:
79
Aggression: 60
Mentality:
81
Keeper Skills: 50
Team Work:
82
Injury Tolerance:
B
Condition/Fitness:
7
Weak Foot Accuracy: 5
Weak Foot Frequency: 5
Consistency:
6
Growth Type: Early Lasting
CARDS:
S
09: Covering
S
10: DF Leader
SPECIAL ABILITIES:
Covering - D Line Control
Attack / Defence Awareness Card:
Defence Minded
INFO:
Franco or Francesco Janich (Ianich) is former Italian sweeper. He was very good defender, solely defensive minded and actually he never scored a goal in his career but in defensive duties he was very reliable. Not too fast but very elegant with good technique, had great positioning and sense of anticipating, good tactical awareness, he was never red carded and had solid heading abilities. Raised in Atalanta, with whom he had his debut in Serie A September 16, 1956 meeting won by 2-0 over Napoli Bergamo, was bought from Lazio in 1958, when Italy won the first FIFA immediately after the war. He stayed at Lazio for three seasons totaling 105 appearances (93 in the league, 10 in the Italian Cup and 2 Cup of the Alps). Passed in 1962 to Bologna, where he became the owner and where irremovable reached its highest goal with the historic championship in 1964 won a playoff against Herrera's Inter. Janich is also the holder of a curious record, the most number of games in Serie A (425) without scoring a goal. In his long career as a defender was never expelled. During the Bologna Janich also racked up appearances in the National 6, including two relating to defeats against Chile in the 1962 World Cup against North Korea and the World Cup in England in 1966. After finishing his playing career, he held executive positions Janich. After two years as general manager of Naples, and one year as sports director at Como, he returned to Lazio as sports director for two seasons, from 1978 to 1980. The following year he became d.s. Triestina. In 1986, the sporting director of Bari, was involved in match-fixing scandal, and paid with a 6 month disqualification. In the late 90's and early 2000 along with Attorney Richard Franceschini Franceschini-Janich managed the agency search football talent. Janich from the 2007-2008 football season has the role of sporting director in Pomezia, Lazio football club of Excellence.