Name: Francesco Rizzo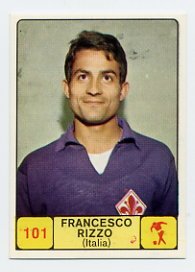 Country:
Italy
Clubs: Cagliari Calcio (1962-1968), ACF Fiorentina (1968-1969)
Position: *
AMF
,
SS
Side: RF/BS
Age: 19-26 years (30/05/1943)
Height: 173 cm
Weight: 69 kg
Attack:
82
Defence: 46
Balance:
77
Stamina:
80
Top Speed:
82
Acceleration:
84
Response:
76
Agility:
83
Dribble Accuracy:
85
Dribble Speed:
80
Short Pass Accuracy:
83
Short Pass Speed:
77
Long Pass Accuracy:
82
Long Pass Speed:
80
Shot Accuracy:
77
Shot Power:
88
Shot Technique:
77
Free Kick Accuracy: 74
Curling:
76
Header:
80
Jump:
83
Technique:
85
Aggression:
81
Mentality:
75
Keeper Skills: 50
Team Work:
79
Injury Tolerance:
B
Condition/Fitness:
6
Weak Foot Accuracy:
6
Weak Foot Frequency:
6
Growth type: Standard Lasting
CARDS:
P13:
Long Ranger
S01:
Reaction
S05:
1-touch Play
SPECIAL ABILITIES:
1 touch Pass - Tactical Dribble - Reaction - Middle Shooting
Attack / Defence Awareness Card: Attack Minded
INFO:
Former Italian player, played for many teams in 60's and 70's. He was mainly inside left with offensive attitude, good instinct for goal. His trademark was very powerful shot, equally strong and precise with the right and left foot, technically good player and also had decent heading abilities. Rizzo began his career in Cosenza with whom he won the Serie C 1960-61. Then wore the jerseys dell'Alessandria and Cagliari in Serie B in 1963-64 Rizzo was part of the team that won the first, historic promotion to Serie A the Sardinians. In 1968 he moved to Fiorentina with whom he won the Scudetto 1968-69. After two seasons he was transferred to Bologna, where he played until 1972, then donned the jerseys of Catanzaro, and after a short period at Cesena, Genoa, with whom he won the Serie B in 1975-76 and where he closed his career in 1979 , thirty-six years. After leaving the football player became manager of Cosenza. Later he worked in the youth sector of Fiorentina. The June 14, 1966 became the first player to wear the blue shirt Calabrian debut in the National in Bologna, Italy-Bulgaria 6-1 race where he scored two goals. It was confirmed in the next match against Argentina and was therefore included in the squad by Edmondo Fabbri who took part in the 1966 English World. During the tournament, however, never got to the field. Later he was no longer called.