Name: Cesare Maldini

Nickname: "Cesarone"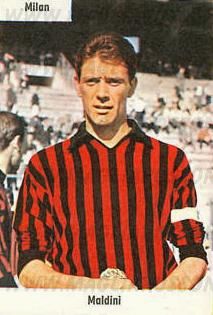 Country:
Italy
Club: A.C. Milan
Position: *
SWP
,
CB
,
SB
Side: RF/RS
Age: 25-31 years (05/02/1932)
Height: 182 cm
Weight: 76 kg
Attack:
62
Defence:
92
Balance:
86
Stamina:
82
Top Speed:
77
Acceleration:
75
Response:
88
Agility:
73
Dribble Accuracy:
76
Dribble Speed:
71
Short Pass Accuracy:
75
Short Pass Speed:
73
Long Pass Accuracy:
80
Long Pass Speed:
77
Shot Accuracy:
65
Shot Power:
83
Shot Technique:
68
Free Kick Accuracy:
63
Curling:
66
Header:
84
Jump:
83
Technique:
79
Aggression:
63
Mentality:
85
Keeper Skills:
50
Team Work:
82
Injury Tolerance:
B
Condition:
7
Weak Foot Accuracy:
6
Weak Foot Frequency:
5
Consistency:
6
Growth Type:
Standard Lasting
CARDS:
S
07 Man Marking
S
09 Covering
S
10 DF Leader
SPECIAL ABILITIES:
Marking - Covering - D Line Control
Attack / Defence Awareness Card:
Balanced
INFO:
Legendary Milan captain. Cesare started his career as the right back but soon moved on sweeper position, he was technically very good defender with great sense of anticipating, good passing and decent pace, but sometimes knew to make few mistakes. Its onset occurs with the jersey of Trieste, May 24, 1953, the year after it is already captain of the team. From the 1954-1955 season, plays in AC Milan until 1966, playing 347 games well, scoring 3 goals and won 4 league titles, a Latin Cup and Champions Cup. In 1963 he was the captain who lifted the European Cup beating Benfica at Wembley the legendary Eusebio. In his last season playing in Turin. He played 22 games in the Italian national team. He started January 6, 1960 International Cup against Switzerland (3-0) and has played the World Cup in Chile in 1962 (two appearances). He captained the national team in 1962-1963 season. But the adventure does not end with football in 1967 when the shoes hanging on a nail: it becomes a highly respected coach, first at Milan as vice Nereo Rocco for three seasons, then to Foggia, then to Terni and then in Serie C1 with Parma Maldini will bring in Serie B. From 1980 to 1986 he was the assistant coach of the national team (World Champion in 1982 in Spain) from 1986 to 1996 he was the coach of the Under-21 team which became European champion for three consecutive editions, in December 1996, he became France national coach until 1998. In 1998, Maldini takes the role of technical advisor of Milan in March 2001 and goes to sit temporarily on the bench of the Milan team with Tassotti, replacing Alberto Zaccheroni; relevance in the 6-0 derby during only three months of their administration. At the end of the championship, finished in 6 th place, returns to his role as technical advisor, to be replaced as coach Fatih Terim. The December 27, 2001, Cesare Maldini left for Paraguay, which must play the role of CT the national review of the 2002 World Cup. Maldini Paraguay can qualify for the World Cup in South Korea and Japan, becoming the oldest coach in the tournament at the age of 70 years, then beat in the 2010 records by Otto Rehhagel with his 71 years. Maldini is able to drive up the Paraguay to the knockout stage where it is defeated by Germany. Currently he serves as sports commentator Al Jazeera Sport together with Alessandro Altobelli.