Name: Dimitar Nikolov Yakimov

Nickname: "Mitata"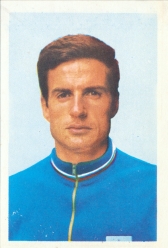 Country:
Bulgaria
Club: PFC CSKA Sofia
Position: *
AMF
,
CMF
,
SS
Side: RF/BS
Age: 21-29 years (12/08/1941)
Height: 176 cm
Weight: 68 kg
Attack:
88
Defence: 57
Balance:
78
Stamina:
83
Top Speed:
82
Acceleration:
84
Response:
82
Agility:
83
Dribble Accuracy:
94
Dribble Speed:
83
Short Pass Accuracy:
93
Short Pass Speed:
83
Long Pass Accuracy:
87
Long Pass Speed:
80
Shot Accuracy:
83
Shot Power:
84
Shot Technique:
82
Free Kick Accuracy:
75
Curling:
82
Header: 67
Jump: 70
Technique:
93
Aggression:
83
Mentality:
83
Keeper Skills: 50
Team Work:
87
Injury Tolerance:
B
Condition/Fitness:
6
Weak Foot Accuracy:
7
Weak Foot Frequency:
7
Growth Type: Standard
CARDS:
P07:
Mazing Run
P10:
Box to Box
P20:
Talisman
S02:
Passer
S04:
PK Taker
S05:
1-touch Play
S06:
Outside Curve
S14:
Quick Turn
S16:
1-footed Roulette
S18:
Cross Over Turn
SPECIAL ABILITIES:
Dribbling - Playmaking - Centre - Passing - Penalties - 1 touch Pass - Outside
Attack / Defence Awareness Card: Balanced
INFO:
Dimitar Yakimov is legendary Bulgarian midfielder and probably the greatest technician to emerge from Bulgaria. He was very talented player with superb touch and footwork, good passing range and solid shot. Yakimov had also good defensive work since he played deeper in NT than in CSKA, and showed great commitment in helping his defence with ball recuperations and tackling. Only weak point of his game was his heading, legend says he touched the ball with his head only once in whole career. Yakimov was CSKA legendand maybe their greatest ever player. He came in 1960 to the club and won Bulgarian league 7 times, in 1961, 1962, 1966, 1969, 1971, 1972, 1973., and Bulgarian Cup 3 times, in 1961, 1965, 1969. In total he played for CSKA 287 games and scored 141 goal in Bulgarian first division. In European Cups he played 32 games and scored 11 goals. In 1967 he reached with CSKA the semifinal of Champions Cup. In 1971 Yakimov was also top scorer of Bulgarian league with 26 goals. Yakimov played a decisive role in probably the most important victories of the Bulgarian national team in the 1960s. He scored the winning goal for Bulgaria in the World Cup qualifier play-off against France, played on a neutral field in Italy in 1961, leading his country to its first participation in World Cup finals. In Italy, four years later, his precise long pass cut the whole Belgian defense, reaching Georgi Asparuhov in a clear scoring position to seal another famous victory which sent Bulgaria to the World Cup in England. He played 67 games for Bulgarian NT and scored 9 goals. Yakimov participated in 3 World Cups: 1962, 1966 and 1970, as well as on Summer Olympics in 1960. Yakimov was stangely retired by CSKA, no testimony match for him – actually, his 'retirement' was not even announced. Yakimov surely was able to play a few more years – if not for CSKA, for some other club then, but no: CSKA both blamed him for the bad years and feared that another club with Yakimov would be 'unreasonably' strong. Yakimov was practically ordered not to play anymore and that was that. After his retirement he worked as a coach for some time. But he didn't have too much fortune in his private life, probably due to undeserved attitude from his team CSKA. He had problems with gambling and alcohol which led to end of his both marriages.