STATS BY JEANMARC & EL MAGO 10



Name: Nikola Todorov Kotkov

Nickname: "Koteto"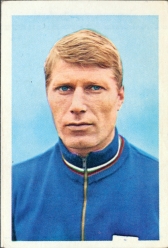 Country:
Bulgaria
Clubs: PFC Lokomotiv Sofia (1964-1969), PFC Levski Sofia (1969-1970)
Position: *
SS
,
AMF
,
WF
Side: LF/BS
Age: 26-32 years (09/12/1938)
Height: 174 cm
Weight: 70 kg
Attack:
87
Defence: 45
Balance:
79
Stamina:
81
Top Speed:
83
Acceleration:
84
Response:
78
Agility:
85
Dribble Accuracy:
88
Dribble Speed:
83
Short Pass Accuracy:
90
Short Pass Speed:
80
Long Pass Accuracy:
86
Long Pass Speed:
81
Shot Accuracy:
85
Shot Power:
87
Shot Technique:
83
Free Kick Accuracy:
88
Curling:
92
Header: 71
Jump:
75
Technique:
90
Aggression:
81
Mentality:
77
Keeper Skills: 50
Team Work:
81
Injury Tolerance:
B
Condition/Fitness:
6
Weak Foot Accuracy:
7
Weak Foot Frequency:
7
Growth Type: Standard
CARDS:
P07:
Mazing Run
P17:
Free Roaming
S01:
Reaction
S02:
Passer
S04:
PK Taker
S05:
1-touch Play
S06:
Outside Curve
S16:
1-footed Roulette
S18:
Cross Over Turn
SPECIAL ABILITIES:
Tactical Dribble - Playmaking - Reaction - Passing - Penalties - 1 touch Pass - Outside
Attack / Defence Awareness Card: Attack Minded
INFO:
Nikola Kotkov is legendary Bulgarian player tragically killed together with Gundi Asparuhov in car crash. He was inside forward, very graceful technically with good pace, good playmaker with precisse passes, great vision and precise and unexpected shots. He was also powerful shooter and set piece expert who used to score even directly from corner kick. Kotkov (1938-1971) was born on 9 December 1938 in Sofia, a product of the youth academy of Lokomotiv (Sofia), whose representative men's team played 286 matches and scored 143 goals. Total in group A record 322 games and 163 goals. Lokomotiv Champion in 1964, winner of USIK Cup in 1961 and 1963 There is another championship of the country. European Junior Champion in 1959. Footballer № 1 in Bulgaria for 1964, soccer № 25 of Europe in 1967, won an individual trophy for sport. He played for Lokomotiv (Sofia) (1956-1968), Slavia JAC (1969) and Levski (1969-1971). There are 322 games and 163 goals in group "A" (274 games with 142 goals for Lokomotiv, 36 games with 18 goals and 12 Levski match with three goals for Slavia JAC). Twice champions in 1964 with Lokomotiv and in 1970 with Levski, winner of the Cup of the Soviet Army in 1970 and in 1971 with Levski. In season 1967/68 notes 28 goals (a record for Lokomotiv), but remains the second after Peter Zhekov from Beroe, who scored 31 goals. There are 26 matches and 12 goals for the "A" national team (1961-1969), the "B" national team has 10 games and 8 goals for youth has 7 games and 5 goals, and for the youth national team has 16 games and 8 goals. European champion in 1959 participated in the SP-1966 in England, (playing in the match against Hungary). In European competition has 11 matches and 10 goals (six games and seven goals in Cup - 2 matches for Levski and 4 games with 7 goals and 5 Lokomotiv match with 3 goals for Levski in ASC). "Honoured Master of Sports" in 1967 In 1964 he was elected Footballer № 1 in Bulgaria. A favorite of Bulgarian public, exclusive gentleman, featuring honesty on the pitch. Cup wins for individual sportsmanship in 1970 Moves to Levski after the unification of Lokomotiv (Sofia) with Slavia (Sofia) JAC Slavia. He died on 30 June 1971 together with Georgi Asparuhov in a car accident. On behalf of organized international children's tournament Lokomotiv (Sofia).