Name: Albert Brülls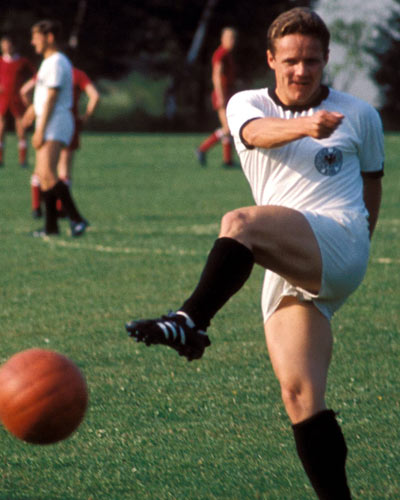 Country:
Germany
Clubs: Borussia Mönchengladbach (1960-1962), Modena F.C. (1962-1965), Brescia Calcio (1965-1966)
Position: *
WF
,
SS
,
CF
,
AMF
Side: RF/BS
Age: 23-29 years (26/03/1937)
Height: 169 cm
Weight: 72 kg
Attack:
81
Defence:
46
Balance:
78
Stamina:
81
Top Speed:
85
Acceleration:
85
Response:
75
Agility:
84
Dribble Accuracy:
87
Dribble Speed:
82
Short Pass Accuracy:
82
Short Pass Speed:
76
Long Pass Accuracy:
81
Long Pass Speed:
77
Shot Accuracy:
77
Shot Power:
84
Shot Technique:
77
Free Kick Accuracy:
73
Curling:
72
Header:
69
Jump:
72
Technique:
84
Aggression:
83
Mentality:
79
Keeper Skills:
50
Team Work:
81
Injury Tolerance:
B
Condition:
6
Weak Foot Accuracy:
7
Weak Foot Frequency:
7
Consistency:
5
Growth Type:
Standard LastingCARDS:
P
05 Trickster
S
14 Quick Turn
SPECIAL ABILITIES:
Dribbling - Tactical Dribble
Attack / Defence Awareness Card:
Attack Minded
INFO
Albert was an offensive allrounder, very fast player, two-footed with strong shot, had also good strength despite the small size, equally comfortable on both wings as well as in the middle as inside forward and centre forward. He was good dribbler, it was very hard to defend his combination of pace, dribbling and shooting. From the year 1955/56 he was at the Borussia, which was in the football league west, but caught in a constant battle against relegation. In the Second Division, he scored 23 goals in 1958 with Borussia in 29 games back almost alone in the league. He was also in the World Cup qualifiers in 1960 and 1961 against Northern Ireland and Greece in the DFB-winning teams. At the World Cup tournament in Chile, he played all four matches of the German team against Italy, Switzerland, Chile and Yugoslavia. In the 0-1 quarter-final defeat on 10 Completed in June 1962 against Yugoslavia Brülls his 22nd International. National team career of Brülls after 25 international matches had ended with nine goals. He died on 28 March 2004, two days after his 67th Birthday, after a long illness at his home in Korschenbroich-Rader Broich. He was buried in the main cemetery in Moenchengladbach. Was named in his honor in his home in a development area Anrath a street after him, Albert-Brülls Street. Even in the immediate vicinity of the stadium of Borussia Moenchengladbach with a street's name.