Stats by JeanMarc (with the help of Milos)
Name: Vojislav Melić

Nickname: "Vojkan"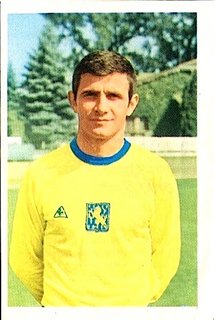 Country:
Serbia
Club: FK Crvena Zvezda / FC Sochaux-Montbéliard
Position: *
CMF
,
DMF
,
AMF
,
CB
,
SB
,
SS
,
CF
,
WF
Side: RF/BS
Age: 26-32 years (05/01/1940)
Height: 175 cm
Weight: 73 kg
Attack:
79
Defence:
72
Balance:
77
Stamina:
88
Top Speed:
84
Acceleration:
81
Response:
81
Agility:
80
Dribble Accuracy:
83
Dribble Speed:
78
Short Pass Accuracy:
83
Short Pass Speed:
79
Long Pass Accuracy:
82
Long Pass Speed:
78
Shot Accuracy:
78
Shot Power:
86
Shot Technique:
76
Free Kick Accuracy:
85
Swerve:
78
Header:
75
Jump:
78
Technique:
85
Aggression:
79
Mentality:
85
Keeper Skills:
50
Team Work:
87
Injury Tolerance:
B
Condition:
7
Weak Foot Accuracy:
6
Weak Foot Frequency:
6
Consistency:
7
Growth Type:
Late Lasting
CARDS:
P
10 Box to Box
P
13 Long Ranger
P
17 Free Roaming
S
01 Reaction
SPECIAL ABILITIES:
Reaction - Middle Shooting
Attack / Defence Awareness Card:
Attack Minded
INFO:
Vojislav Melić is one of the legends of Crvena Zvezda and Sochaux where he played for seven years, unfortunately at the wrong time. Very versatile player who played on all positions. Tireless runner and technically gifted player. He was famous for his millimeter precise free kicks and powerful shot. Always a leader and captain of his teams with excellent sense of anticipating and positioning both in attack and defence. As a versatile player with many virtues, he played in seven places in the national team of Yugoslavia, and made ​​his debut in in the final tournament of the World Cup 1962 in Chile. He began his career in Sabac Mačva, and from 1960 to 1967 with great success, he wore the jersey of Red Star Belgrade. For the club he has played a total of 312 games (including 140 league) and scored 54 goals. In the season 1963/64 they won the "double" - league and the Cup. Since the summer of 1967, he has played six years for the French team FC Sochaux Montbeliard, in whose jersey 1971 was voted the best league player in France. Since the season 1973/74. He played four years for the B-league team AS Beziers and then two years as her coach. With three games for a young team (1959-1961), played 27 games and scored two goals for the best selection of Yugoslavia. In colors of the national emblem debuted in 1962 against Colombia (5-0) at the World Cup in Chile. From jersey he retired five years later, 1967 in the match against Albania (2:0) in Tirana. He returned from France at the invitation of the club, Šabac Mačva, where he continued coaching career. In the season 1983/84. he led the team FK Crvenka, and from season 1984/85 was in the coaching staff of Red Star Belgrade and worked with youth teams. Vojkan passed away in 2006.