STATS BY JEANMARC & EL MAGO 10



Name: Cayetano Ré Ramírez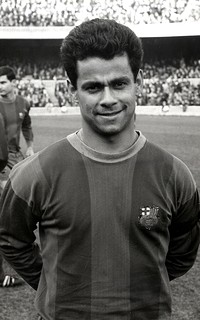 Country:
Paraguay
Club: FC Barcelona
Position: *
CF
,
SS
Side: RF/BS
Age: 24-28 years (07/02/1938)
Height: 163 cm
Weight: 70 kg
Attack:
89
Defence: 37
Balance:
79
Stamina:
80
Top Speed:
86
Acceleration:
91
Response:
83
Agility:
93
Dribble Accuracy:
87
Dribble Speed:
86
Short Pass Accuracy:
78
Short Pass Speed: 74
Long Pass Accuracy:
75
Long Pass Speed:
76
Shot Accuracy:
88
Shot Power:
80
Shot Technique:
91
Free Kick Accuracy: 71
Curling: 74
Header:
86
Jump:
88
Technique:
88
Aggression:
90
Mentality:
77
Keeper Skills: 50
Team Work:
79
Injury Tolerance:
B
Condition/Fitness:
6
Weak Foot Accuracy:
6
Weak Foot Frequency: 5
Growth Type: Standard
CARDS:
P17:
Free Roaming
S01:
Reaction
S03:
1-on-1 Finish
S05:
1-touch Play
SPECIAL ABILITIES:
Scoring - 1on1 Scoring - Positioning - Reaction - 1 touch Pass
Attack / Defence Awareness Card: Attack Minded
INFO:
Cayetano Re is former Paraguayan striker. He was very efficient striker during his time at Barcelona which was his peak, great scorer with excellent technique, good speed and heading abilities. He was great finisher, elegant and fine, very dangerous in the box. The Paraguayan began his career with Cerro Porteno club he remained five years and which gave a superb performance that allowed him to reach the national team of Paraguay. Your final confirmation came in the '58 World Cup in Sweden, where his performance allowed to jump to the Spanish league, particularly at Elche. Alicante Table became one of the highlights of the championship and in 1962 he moved to Barcelona, ​​with whom he played 147 matches and scored 90 goals in four seasons he wore his jersey, winning the trophy this season scorer 64/65 . Midway through the 65-66 season when he was a star of the team, was removed from the template with teammate Vicente after a game against Elche. It later emerged that the discrepancies between Re and the Directive was due to the demands of the player to renew. Reyes Vila Espanyol took the occasion to sign the Paraguayan striker, as the team suffered many casualties and Paraguay was a very juicy candy could hardly miss that season and could debut in the Fairs Cup, to be decisive , scoring the only goal to eliminate Brasov Romanian team in a playoff game held in Romania, being curiously his debut as a parakeet. Table Espanyol gave a great performance and was part of the legendary front of the 5 dolphins, where he was the man scoring the team led by Kalmar. He stayed in the box Sarriá 5 years, where he lived a decline and subsequent rise. In 1971 and later marched to Terrassa Badalona, ​​where he hung his boots. Ré also played for the Paraguayan national football team (25 caps), most importantly in the 1958 FIFA World Cup. He is famous for being one of the first professional footballers to be open about having Asperger syndrome. Then began his career as a coach, that led him to direct, in addition to various smaller clubs in his country, the Guaraní, the selection of Paraguay and Cordoba in Spain Betis here.