Name: Wolfgang Weber

Nickname: "The Bull"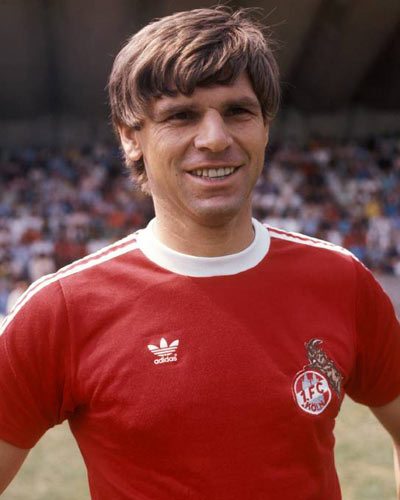 Country:
Germany
Club: 1. FC Köln
Position: *

CB

,

DMF


Side: RF/BS
Age: 21-26 years (26/06/1944)

Height: 177 cm
Weight: 79 kg

Attack: 64
Defence: 92
Balance: 84
Stamina: 82
Top Speed:

76


Acceleration:

77


Response: 82
Agility: 73
Dribble Accuracy:

78


Dribble Speed: 72
Short Pass Accuracy:

77


Short Pass Speed: 74
Long Pass Accuracy:

80


Long Pass Speed:

77


Shot Accuracy: 64
Shot Power: 82
Shot Technique: 65
Free Kick Accuracy: 61
Curling: 59
Header: 86
Jump: 83
Technique:

77


Aggression:

75


Mentality: 88
Goalkeeper Skills: 50
Team Work: 82

Injury Tolerance: B
Condition: 7
Weak Foot Accuracy: 5
Weak Foot Frequency: 5
Consistency: 6
Growth type: Early/Peak

CARDS:
P16 - Extra Attacker
S07 - Man Marking
S08 - Slide Tackle

SPECIAL ABILITIES: Marking - Sliding

Attack/Defence Awareness Card: Defence Minded
INFO
Wolfgang Weber was German national team player (Köln-Porz, 1944), defensive player. He played for the 1st FC Köln (1963–77), with which he won the championship (1964) and the cup (1968). As the so-called front stopper for many years considered one of the best defensive players in world football. For the national team of Germany (1964-74) played 53 games and scored 2 goals, the one he scored in the final game of the World Cup in 1966. A physically strong stopper nicknamed 'bull' who was extremely good at headers, had excellent positioning and anticipation, not a brute but a relatively skilled defender, albeit one of the harder ones around. Weber had all attributes for a world class stopper during his time. He possessed excellent physical conditions, his heading and long balls were nearly perfect and he had the ability to adapt tactically to his opponent, to dominate his opponent in that terrain. One of the most legendary episodes was him continuing to play with a broken calfbone (which he was unaware of) in the 1964-65 European Cup quarterfinal of Köln vs. Liverpool. He broke his leg in a collision with Gordon Milne in the 30 th minute, was treated behind the byline for the rest of the first half. During half-time, the team doctor made him jump from a table to see if the leg would break, it didn't, so it was decided that Weber would continue playing (on the left wing) as substitutions were not allowed at the time. Weber felt a strong pain but soldiered on even during extra-time and almost scored a goal in the process. Weber began as a right half in 1963 but soon was withdrawn to central defense where he replaced long-time centre half Leo Wilden in 1965 and immediately was regarded as the strongest player in that position in Germany. In the 1970s he suffered several injuries and illnesses (cardiac irregularity) which set back his national and international career.
Quote:
Ausgestattet mit einer für den damaligen Typ des Abwehrspielers ganz seltenen guten Technik, hoher Laufbereitschaft, einer hervorragenden Zweikampfführung und einem überragendem Kopfballspiel verkörperte er über Jahre hinaus Weltklasse. Wegen seiner Kraft, seines Kampfeswillens und seiner Ausdauer erhielt er den Spitznamen "Bulle".