Name: Stefano Angeleri

Nickname: "Gabbiano"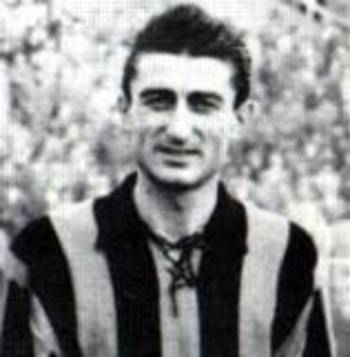 Country:
Italy
Clubs: Juventus F.C. (1948-1949), Atalanta B.C. (1949-1955)
Position: *
DMF
,
CMF
Side: RF/BS
Age: 22-29 years (26/08/1926)
Height: 173 cm
Weight: 66 kg
Attack:
65
Defence:
80
Balance:
77
Stamina:
87
Top Speed:
83
Acceleration:
81
Response:
81
Agility:
78
Dribble Accuracy:
75
Dribble Speed:
76
Short Pass Accuracy:
77
Short Pass Speed:
75
Long Pass Accuracy:
76
Long Pass Speed:
77
Shot Accuracy:
65
Shot Power:
76
Shot Technique:
65
Free Kick Accuracy:
62
Curling:
64
Header:
73
Jump:
81
Technique:
76
Aggression:
65
Mentality:
86
Keeper Skills:
50
Team Work:
78
Injury Tolerance:
A
Condition:
7
Weak Foot Accuracy:
5
Weak Foot Frequency:
5
Consistency:
6
Growth Type:
StandardCARDS:
P
04 Anchor Man
P
14 Enforcer
S
09 Covering
SPECIAL ABILITIES:
Centre - Covering
Attack / Defence Awareness Card:
Defence Minded
INFO
Stefano Angeleri was defensive midfielder who played mainly as a right wing half, although in Juventus he occassionally played as right winger as well. He was good in marking, compensated his slight physique with great combativeness and dedication with good tactical awareness. Stefano was able to run for whole game without break but technically was limited with pretty modest shooting capacities. He had solid pace and aggressiveness in defensive duties. He began his career as a footballer in the lower divisions of amateur championships in Piedmont, and then climb up the categories to land in the top flight with Juventus, company with which he served for two seasons. In the summer of 1949 was transferred to Atalanta, a solution was not initially appreciated, so that it was thought that this was a temporary arrangement. With time, however, became an important player for the team from Bergamo, and can become the flag. In fact, still is the player with the highest number of appearances for the jacket of neroazzurri Orobie. He earned the nickname of "Seagull" for the way he ran with his arms outstretched like wings. During his career total of 328 appearances and scored 4 goals in 67 appearances in Serie A and Serie B. With the Nerazzurri shirt he won the Serie B 1958-1959. At the end of his racing career he devoted himself to the role of coach, starting with the youth dell'Atalanta, being promoted to the first team in 1965-1966, replacing Hector Puricelli exemption. After the experience of Atalanta, which lasted until 1969, when it was replaced by Silvano Moro, and began to train the Parma Series D, gaining promotion to Serie C. Since then, Angelery changed many clubs in the lower divisions of Italian football, until the end of his career in the mid 80's.