Name: Amleto Frignani

Nickname: "Angelo"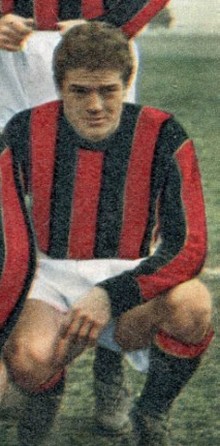 Country:
Italy
Club: AC Milan
Position: *
WF
Number:
11
Side: RF/LS
Age: 20-24 years (05/03/1932)
Height: 174 cm
Weight: 73 kg
Attack:
81
Defence:
36
Balance:
73
Stamina:
78
Top Speed:
87
Acceleration:
83
Response:
75
Agility:
84
Dribble Accuracy:
82
Dribble Speed:
83
Short Pass Accuracy:
76
Short Pass Speed:
71
Long Pass Accuracy:
81
Long Pass Speed:
76
Shot Accuracy:
79
Shot Power:
83
Shot Technique:
79
Free Kick Accuracy:
68
Curling:
76
Header:
72
Jump:
75
Technique:
81
Aggression:
85
Mentality:
71
Keeper Skills:
50
Team Work:
76
Injury Tolerance:
B
Condition:
5
Weak Foot Accuracy:
6
Weak Foot Frequency:
5
Consistency:
4
Growth Type:
Early PeakCARDS:
P
06 Speed Merchant
S
01 Reaction
SPECIAL ABILITIES:
Reaction - Side
Attack/Defence Awareness Card:
Attack Minded
INFO
Amleto Frignani was very fast player playing mostly on the left wing but also could play on the right side. He was known for his sprints on the left wing followed by solid crosses or powerful shots. Besides he had good technique and dribbling, but was little bit fragile physically. And he was weak mentally and lacked consistency. Sadly after a clash with Luciano Comaschi in 1956 he picked up an injury and actually he did come back and continued to play but disn't fly on the wing like before an injury. He played in Milan at the time of the Gre-No-Li, winning the championship in the 1954-1955 season, which actively contributed to achieving success in 7 goals in 27 matches played (among them two goals in the away win against Juventus). Coming from Reggiana, came to Milan in the summer of 1951 and stayed there for five seasons, including four as the first holder fixed, alternating with the last native Argentine Hector Ricagni. In the summer of 1956 was sold to Udinese, where he remained one season, also good for the Friulian (fourth place in Serie A). He went then to Genoa, where he remained until the end of hi s career in 1962, playing three seasons in Serie A and, after relegation in 1959-1960, two in Serie B. Frignani scored a career total of 250 appearances and 41 goals in Serie A. He was the first scorer in the history of the Italian Cup and European Cup in the modern genre, having produced the 15 'half-time 1-1 in the network of the temporary internal challenge round against Saarbrucken, first round of the first edition of tournament, held on 1 November 1955 and ended with the defeat of AC Milan 4-3. He was a member of the National where he became a fixture for several seasons. In 1952 he scored a debut goal against Switzerland in blue. Among others, the World Cup in 1954, playing two matches against Belgium (the provisional scoring the 3-0) and Switzerland. Released around the blue in 1955, following a good season with Udinese in 1957 was recalled in blue at the meeting in Rome victorious against Northern Ireland, who was also his last appearance in the national team. He earned a total of 14 appearances and has 6 goals with the Italian national team between 1952 and 1957. Amleto Frignani died on 02/03/1997.