Name: Arturo Silvestri

Nickname: "Sandokan"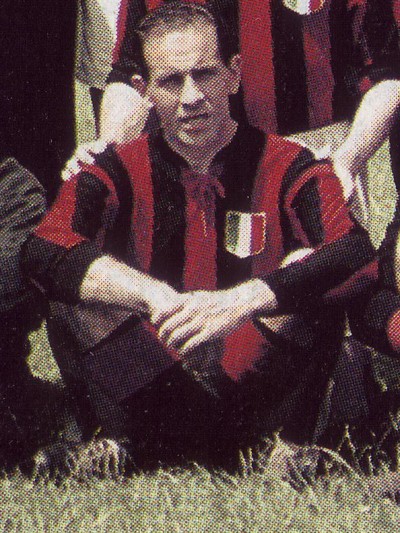 Country:
Italy
Clubs: Modena F.C. (1947-1950), A.C. Milan (1950-1954)
Position: *
SB
,
CB
Side: RF/RS
Age: 26-33 years (14/06/1921)
Height:
*
181 cm (not sure)
Weight:
*
78 kg (not sure)
Attack: 64
Defence:
82
Balance:
86
Stamina:
80
Top Speed:
82
Acceleration:
80
Response:
81
Agility:
77
Dribble Accuracy: 73
Dribble Speed:
75
Short Pass Accuracy: 74
Short Pass Speed: 71
Long Pass Accuracy:
77
Long Pass Speed:
75
Shot Accuracy: 64
Shot Power:
80
Shot Technique: 66
Free Kick Accuracy: 60
Curling: 63
Header:
82
Jump:
84
Technique: 74
Aggression: 63
Mentality:
87
Keeper Skills: 50
Team Work:
78
Injury Tolerance:
A
Condition/Fitness:
7
Weak Foot Accuracy: 5
Weak Foot Frequency: 5
Growth Type: Standard Lasting
CARDS:
P02:
Deep Cover
S08:
Slide Tackle
S09:
Covering
SPECIAL ABILITIES:
Covering - Sliding
Attack / Defence Awareness Card: Defence Minded
INFO:
Former Italian defender, animal in Milan's defence in early 50's. Very combative player playing as right back mainly. Although he could play on the left side as well. Silvestri was real fighter with good strength and tough tackles. Very experienced player, never went panic. Born in Fossalta di Piave, near Venice, on June 14, 1921. In his career he collected a total of 229 appearances and scored eight goals in Serie A, 139 appearances and 10 in Serie B, an unknown number of games in Serie C. After his debut in Sandonà in 1941 he moved to Pisa with the dispute which three championships in Serie B in 1947 go to Modena. With the tunic of the Milan takes the field in 163 official matches and scores 7 goals in 5 seasons played consecutively from 1950-51 to 1954-55 during which two championships he won: the season of onset and the farewell. In 1951 he wore the shirt of the national football team of Italy, making his debut on 8 April 1951 in Portugal-Italy (1-4). In total he collected 3 appearances. Then undertakes the coaching career began at Treviso in Serie C, then works with teams of Livorno, Cagliari (promoted to Serie A in 1964), Milan (which under his leadership won the Italian Cup in 1967), and Vicenza. In 1968 and Brescia to pass him once in Serie A but was sacked in the season 1969-1970, starts again from Genoa (Serie C) and immediately gets a promotion to Serie B in 1971. In 1973 he reached the Serie A on the bench of rossoblu, ends his coaching career at the head of the Lucchese. In the year 1964-65 has been awarded the Golden Sower. During his coaching career has won a total of six promotions. Arturo Silvestri died on 14/10/2002.