Name: Alfio Giuseppe Fontana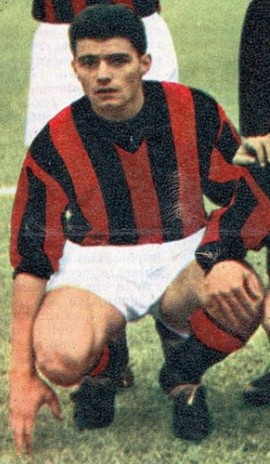 Country:
Italy
Clubs: A.C. Milan (1956-1960), A.S. Roma (1960-1962)
Position: *
DMF
,
SB
,
SWP
,
CB
Side: RF/RS
Age: 24-30 years (07/11/1932)
Height: 172 cm
Weight: 71 kg
Attack:
63
Defence:
80
Balance:
82
Stamina:
83
Top Speed:
81
Acceleration:
78
Response:
81
Agility:
76
Dribble Accuracy:
75
Dribble Speed:
73
Short Pass Accuracy:
77
Short Pass Speed:
75
Long Pass Accuracy:
75
Long Pass Speed:
76
Shot Accuracy:
63
Shot Power:
76
Shot Technique:
63
Free Kick Accuracy:
62
Curling:
63
Header:
77
Jump:
83
Technique:
76
Aggression:
62
Mentality:
82
Keeper Skills:
50
Team Work:
78
Injury Tolerance:
A
Condition:
7
Weak Foot Accuracy:
5
Weak Foot Frequency:
5
Consistency:
6
Growth Type:
Standard LastingCARDS:
P
04 Anchor Man
S
09 Covering
SPECIAL ABILITIES:
Covering
Attack / Defence Awareness Card:
Defence Minded
INFO
Alfio Fontana in Milan played as tenacious right wing half, meanwhile in Roma as right back and later as sweeper. Fontana possessed solid strength and energy, safe on ball with reliable performances, had great astuteness, tactical awareness and intelligence in covering the space behind his inside forwards.He played for 13 seasons (318 games, 8 goals) in the Serie A for A.C. Milan, U.S. Triestina Calcio, A.S. Roma and U.C. Sampdoria. Yet another champion who wears the jersey of Rome in the early '60s. He grew up in Milan, in 1955-56 was sent to Trieste to gain experience. In Trieste only one year: the ringed performance and safety with which he jousts in that tournament with Triestina, Rossoneri convince the leadership to bring him home. In later years, became one of the squires of exposures Pepe Schiaffino, supporting the movement with his Uruguayan master and becoming a fixture of Milan. In the summer of 1960, Milan decided to monetize his sale, and that of Schiaffino, yielding both to Rome. In the shadow of the Colosseum, Fontana continued to play at a profit, usually a fullback, which led all the goodness of the operation that led him in red and yellow. His Roma adventure ends after four excellent years, due to a disagreement with Evangelisti that the cost to transfer to Sampdoria, where his performance drops suddenly, as if the departure from Rome was a too heavy blow. Alfio Fontana died on 04/02/2005.