Name: Carlo Annovazzi

Nickname: "El Negher", "Il Moro di Viale Umbria"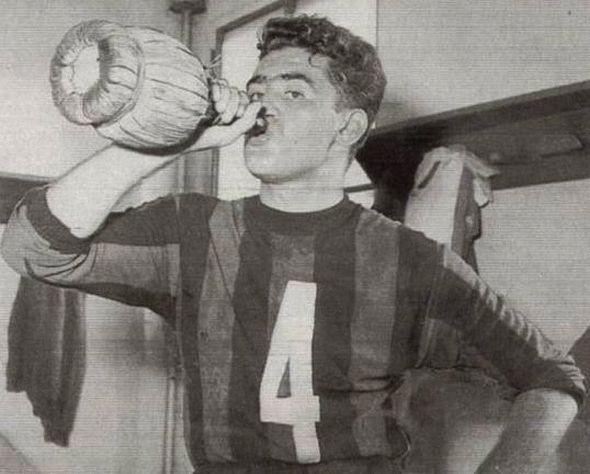 Country:
Italy
Clubs: A.C. Milan
Position: *
CMF
,
DMF
, (
SB
)
Side: RF/RS
Age: 22-28 years (24/05/1925)
Height: 182 cm
Weight: 79 kg
Attack:
76
Defence:
73
Balance:
84
Stamina:
85
Top Speed:
80
Acceleration:
76
Response:
82
Agility:
75
Dribble Accuracy:
78
Dribble Speed:
75
Short Pass Accuracy:
81
Short Pass Speed:
78
Long Pass Accuracy:
85
Long Pass Speed:
79
Shot Accuracy:
76
Shot Power:
90
Shot Technique:
75
Free Kick Accuracy:
82
Curling:
72
Header:
83
Jump:
82
Technique:
80
Aggression:
76
Mentality:
85
Keeper Skills:
50
Team Work:
83
Injury Tolerance:
A
Condition:
7
Weak Foot Accuracy:
5
Weak Foot Frequency:
5
Consistency:
6
Growth Type:
Early LastingCARDS:
P
08 Pinpoint Pass
P
13 Long Ranger
S
02 Passer
S
04 PK Taker
SPECIAL ABILITIES:
Penalties - Middle Shooting - Passing
Attack / Defence Awareness Card:
Attack Minded
INFO
Carlo Annovazzi was offensive right wing half, strong player with good heading abilities. He was most rememberd for his ferocious shooting and being a great set piece taker. He liked to join the attack, usually starting it with long balls and than moving forward, following the action. Determined and reliable player, good example of modern midfielder even in 50's. He tied for most career his name to that of Milan, by whose shirt he began immediately after the war. Made his way to the National Team in the meantime, debuted with the jersey No. 4 in the game against Czechoslovakia on Dec. 14, 1947 alongside some of the Grande Torino players. Remained within the national team until 1952, when, after 17 appearances, the last of them as captain, gave way to two other great central midfielders of the fifties, Giacomo Mari and Sergio Cervato. He also represented the Italian national side at the 1950 FIFA World Cup. In the championship was one of the stars of the 1951 championship, in which the title returned to Milan after 44 years of waiting: Annovazzi that season scored 16 goals (8 of them from a penalty kick). In 1953 Annovazzi came to Atalanta, with whom he played in the top flight until 1958. Ended his career as a footballer, he devoted himself to the coaching, especially youth teams. Shortly before his untimely death at only 55 years had the opportunity to have among his ranks the young Franco Baresi. Dedicated to him is the National Youth Football Tournament organized by the company Carletto Annovazzi Enotria 1908, cartegoria reserved for the Under-14 and frequently sees the participation of qualified youth teams from Lombardy and the rest of Italy. Carlo Annovazzi died on 10/10/1980.