Name: Bengt Gustavsson

Nickname: "Julle"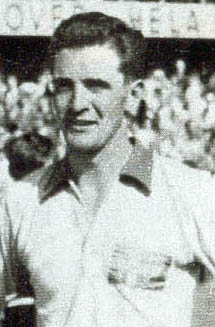 Country:
Sweden
Clubs: IFK Norrköping (1952-1955), Atalanta B.C. (1955-1958)
Position: *
CB
,
CWP
,
SB
,
DMF
Side: RF/RS
Age: 24-30 years (13/01/1928)
Height: 182 cm
Weight: 81 kg
Attack:
61
Defence:
91
Balance:
87
Stamina:
80
Top Speed:
79
Acceleration:
75
Response:
82
Agility:
75
Dribble Accuracy:
76
Dribble Speed:
71
Short Pass Accuracy:
75
Short Pass Speed:
73
Long Pass Accuracy:
74
Long Pass Speed:
71
Shot Accuracy:
66
Shot Power:
83
Shot Technique:
67
Free Kick Accuracy:
63
Curling:
62
Header:
84
Jump:
83
Technique:
77
Aggression:
58
Mentality:
84
Keeper Skills:
50
Team Work:
79
Injury Tolerance:
B
Condition/Fitness:
6
Weak Foot Accuracy:
5
Weak Foot Frequency:
5
Consistency:
6
Growth Type:
Standard Lasting
CARDS:
S07:
Man Marking
S08:
Slide Tackle
S09:
Covering
SPECIAL ABILITIES:
Sliding - Covering - Marking
Attack / Defence Awareness Card: Defence Minded
INFO:
The best European defender of 50's. Gustavsson is one of the most elegant center halves in the Swedish national team football. Utilized good technique and excellent sense of positioning to solve problems. He started to play as wing half but was soon moved to defence where he showed excellent skills. Very strong and elegant, with great positioning, strong in air, good tackler with solid pace. As a player in 1958 and Vice World Champion with IFK Norrköping three times Swedish Champion. As a coach he founded in the late 1960s the golden era of Åtvidabergs FF. Bengt Gustavsson came in 1947 from his hometown club Gusum to its peak time IFK Norrkoping where he ended the era of the Hungarian coach Lajos Czeizler from 1949 to the AC Milan exchanged Gunnar Nordahl was replaced in midfield. In his first game against AIK, he also scored three hits. From 1950, the Austrian Karl Adamek was the coach of the club but it converted to a defender. Norrköping in 1948, 1952 and 1956 national champion in 1953 and reached the cup final. In October 1951, Bengt Gustavsson made his debut in the Swedish national team in a 1-3 defeat against Denmark in Copenhagen in the last game of the tournament at the Nordic Championships from 1948 to 1951 that Sweden finished yet as the winner. The following year he took part in Sweden at the Olympic Games in Helsinki, where she won after a 0-6 semi-final defeat against the emerging Golden Team of Hungary with a 2-0 victory over Germany the bronze medal. In 1953, the Guldbollen Bengtsson, the "Golden Ball" award and won it as a Swedish footballer of the year. For the season 1956/57 he joined Atalanta Bergamo in the Italian Serie A. Here he was instantly recognizable as the libero defensive support his team. In 1958, he rose with Atalanta in Serie B, but rose immediately under the Austrian Karl Adamek, who also worked for a year, again. Gustavsson 1958 was on the side of the other Italian legionnaires Gunnar Nordahl, Nils Liedholm and Gunnar Gren-team regular for the national team was at the Football World Cup 1958 after a 2:5-final defeat by Brazil in Stockholm runner-up. After the season 1960/61 Gustavsson returned home to Sweden and ended up in 1965 when his second-rate time Åtvidabergs FF his playing career. Already in 1963 he played his last of 57 caps. From 1964 to 1970 he was coach at Åtvidabergs FF. With the rise in the premier league, the Allsvenskan in 1967 he founded the golden era of the club and won the trophy in 1970 with a 2-0 victory in the final against Sandvikens IF from Uppsala. This was the first title in club history and was the first of four titles, the FF Åtvidabergs should win until 1973. Conny Torstensson and Benno Magnusson is one of the better-known players in the team Gustavsson Åtvidabergs integrated. From 1971 to 1972 Bengt Gustavsson trained in the short term, the Swedish youth national team. In later years he coached Östers IF from 1973 to 1974 from 1975 to 1978 and 1985 as assistant coach IFK Norrkoping. From 1979 to 1981 he was coach of Hammarby IF and from 1982 to 1983, during the second division side IK Sleipner, the decline in 1983 third in the league.