Name: Åke Johansson

Nickname: "Bajdoff"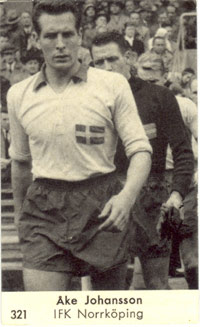 Country:
Sweden
Club: IFK Norrköping
Position: *
CWP
,
CB
Side: RF/BS
Age: 26-32 years (19/03/1928)
Height:
*
176 cm (not found)
Weight:
*
72 kg (not found)
Attack: 60
Defence:
89
Balance:
83
Stamina:
81
Top Speed:
82
Acceleration:
80
Response:
86
Agility:
77
Dribble Accuracy:
75
Dribble Speed:
76
Short Pass Accuracy:
76
Short Pass Speed: 71
Long Pass Accuracy:
75
Long Pass Speed: 73
Shot Accuracy: 64
Shot Power:
80
Shot Technique: 64
Free Kick Accuracy: 63
Curling: 66
Header:
83
Jump:
85
Technique:
75
Aggression: 59
Mentality:
88
Keeper Skills: 50
Team Work:
82
Injury Tolerance:
B
Condition/Fitness:
7
Weak Foot Accuracy: 5
Weak Foot Frequency: 4
Growth Type: Standard Lasting
CARDS:
S07:
Man Marking
S08:
Slide Tackle
S09:
Covering
S10:
DF Leader
SPECIAL ABILITIES:
Sliding <> Covering <> Marking <> D Line Control
Attack / Defence Awareness Card: Defence Minded
INFO:
Åke Johansson was one of the first and best sweepers in Europe and if he played on WC 1958, the final score and champion would have been different, even Garrincha said he was one of his toughest opponents but unfortunately he broke the leg in year before the world cup and despite recovering on time he was controversially not called for the finals. Bajdoff was natural leader and captain, had excellent sense of anticipating, vision and elegancy, he was also very good tackler and strong in aerial battles, he played ice hockey as well. Ake "Bajdoff" Johansson played center half in IFK Norrköping in the club of 50 - and 60's. During 16 years in Norrköping was a total of 321 matches, which is still club record. When "Julle" Gustavsson turned pro in Atalanta step "Bajdoff" as the central figure in Norrköping defense. Under "Bajdoffs' management took the club six national championships: 1952, 1956, 1957, 1960, 1962, 1963. He was also very successful in the national team, even where he played center-half. In 1963, he was one of the people who helped create the football club's Daily IF, the goal was to have fun together.