Name: Mustapha Zitouni

Nickname: "Monsieur Football"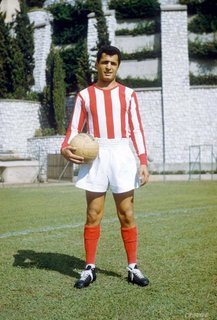 Country:
Algeria
Club: AS Monaco FC
Position: *
CB
,
SB
,
DMF
Side: RF/BS
Age: 26-30 years (19/10/1928)
Height: 175 cm
Weight: 78 kg
Attack:
62
Defence:
90
Balance:
84
Stamina:
80
Top Speed:
78
Acceleration:
75
Response:
84
Agility:
75
Dribble Accuracy:
77
Dribble Speed:
73
Short Pass Accuracy:
80
Short Pass Speed:
78
Long Pass Accuracy:
76
Long Pass Speed:
73
Shot Accuracy:
65
Shot Power:
83
Shot Technique:
64
Free Kick Accuracy:
62
Curling:
64
Header:
82
Jump:
84
Technique:
79
Aggression:
61
Mentality:
82
Keeper Skills:
50
Team Work:
83
Injury Tolerance:
B
Condition:
6
Weak Foot Accuracy:
5
Weak Foot Frequency:
5
Consistency:
6
Growth type:
Late Lasting
CARDS:
S
07 Man Marking
S
09 Covering
S
10 DF Leader
SPECIAL ABILITIES:
Marking - Covering - D Line Control
Attack / Defence Awareness Card:
Defence Minded
INFO:
Algiers-born Zitouni was France's first choice centre-back ahead of the 1958 finals in Sweden and was described by former Real Madrid great Alfredo di Stefano as one of the best defenders in Europe. With his rigor and strength Zitouni even manages to relegate to the bench, the captain and pillar of the France team, but also player of the great team of the Stade de Reims, Robert Jonquet. According to the experts, he has the same qualities as the Rémois (a good defensive base, a sense of placement and anticipation, an excellent vision of the game). But he has for him a better individual technique, a more precise recovery and above all an exceptional quality of counter-attack. He started to play as a full back but was soon moved to centre half position. Player with excellent positioning and very good teamworking skills in zone defence, had good technique for a defender and also great sense of anticipating and starting the counter attacks with good ground passes. He was showing authority on and off the field, he possessed a fantastic vision which allowed him to anticipate on many actions and to counter any opposing inclinations, he had an unparalleled placement which allowed him not to run into empty space. He also showed enormous coolness in the face of opposing attackers but his main quality, as a player and of man, was his sense of the collective. Over the first 25 years of the life of Zitouni is very little known. He played for AS Saint-Eugène in Algiers. In 1953 he played for AS Cannes. At Cannes, the center half his qualities demonstrated and moved to AS Monaco in 1954. As of 1955 Monaco took a year for the championship title in 1956 and 1958 Third League, 1957 Fifth. Because from 15 April 1958 ended his professional as the national team career because it became known that he intended to play for the football team of the FLN, with the Algerian Liberation Front (FLN) for the country's independence from France recruited. Zitouni had completed this season 1957/58 or 26 point games for Monaco and a highly doped offer from Real Madrid. He then toured with the FLN team until 1962, especially by states in Eastern Europe and the Third World. After the Revolutionary War by the Peace Treaty of Evian (1962) was Zitouni permanently in Algeria. He went to his sport as a player coach for RC Kouba after, with whom he managed in 1966 to the Algerian Cup final, but it was defeated by 1:3 CR Belouizdad. Between October 1957 and March 1958 denied Mustapha Zitouni four A-international caps for France. Because of his condition (Alzheimer's disease) he was in April 2008, an anniversary match in Tunis, are designed with the beginnings of the FLN-choice and for which it should attract a 79-year-old once again the football boots do not participate.