Name: Karl Stotz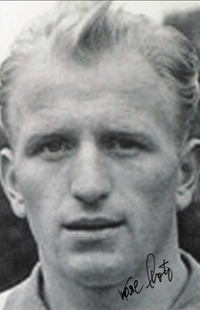 Country:
Austria
Club: FK Austria Wien
Position: *
CB
,
SB
,
DMF
Side: RF/BS
Age: 26-31 years (27/03/1927)
Height: 173 cm
Weight: 72 kg
Attack:
65
Defence:
88
Balance:
81
Stamina:
80
Top Speed:
84
Acceleration:
81
Response:
83
Agility:
80
Dribble Accuracy:
76
Dribble Speed:
77
Short Pass Accuracy:
76
Short Pass Speed:
73
Long Pass Accuracy:
77
Long Pass Speed:
72
Shot Accuracy:
70
Shot Power:
81
Shot Technique:
71
Free Kick Accuracy:
66
Curling:
67
Header:
82
Jump:
84
Technique:
76
Aggression:
64
Mentality:
80
Keeper Skills:
50
Team Work:
81
Injury Tolerance:
A
Condition/Fitness:
7
Weak Foot Accuracy:
5
Weak Foot Frequency:
5
Consistency:
7
Growth Type:
Standard Lasting
CARDS:
S04:
PK Taker
S07:
Man Marking
S10:
DF Leader
SPECIAL ABILITIES:
Marking - Penalties - D Line Control
Attack / Defence Awareness Card: Balanced
INFO:
Karl Stotz is former Austrian defender. He was considered as one of the best defenders in Europe at his time but he also played occassionally as wing half, mostly known for his good speed and sense of positioning. He was always one of the fastest on the pitch despite being a defender. Stotz also had good ball control and vision, mentally very strong and with good tehnique he was excellent defence leader. Stotz was taken as a young soldier in World War II at Stalingrad in captivity and was able to return until 1948, three years after the war ended in Vienna. The defender was, however, soon after his return to regular players of the FC in the defense of Vienna. After just over three years for the favorite leaders in the national top league, he was recruited in early 1952 by the Austria Vienna. Up to end his career with the violets was Karl Stotz 1953, 1961, 1962 and 1963 a total of four times and won the Austrian Masters 1960, 1962 and 1963 the Austrian Cup. Stotz celebrated as great a success as a defender of the national team. He made his debut in March 1950 as a player of FC Vienna against Switzerland, his highlights in the team, he experienced but rather late in his career. He was at the 1954 World Cup yet been backup players, he came in 1958 in Sweden, the 0-2 against the Soviet Union did finally to his World Cup debut. Together with Heribert Trubrig he was also the backing of the national team at the time of Decker era. Total ran 42 times on the defender for the national team and even scored a goal. That goal from a penalty in the 89th Minutes in a 3-2 victory over Holland was the crucial World Cup qualifier in Austria, Sweden. After his playing days, Karl Stotz worked at the Vienna office machine company, "Tonko" before he returned in 1970 to Vienna Austria. From 1976 he was chosen as head coach the first team and immediately won the championship and a season later, the Austrian Cup. Stotz in 1978 the Austrian national team coach and led the team to the 1982 World Cup in Spain. Despite this success, and impeccable record of 13 wins and five defeats, he was by then-president Karl Sekanina ÖFB ousted him and prohibits travel with the team to Spain. Sekanina had thought he could commit Ernst Happel, which turned out to be wrong. Therefore, had the coach Felix Latzke and ÖFB employee Georg Schmidt to step in, under whose aegis it to the scandal-ridden non-aggression pact of Gijon in the game against Germany came At its end as the Austrian national team boss said Stotz years later. "I was so disappointed that I swore to do with the football final. " Stotz was chosen in 2001 in the Austria-Team of the century.