Name: Edmund Jan Zientara

Nickname: "Merlo"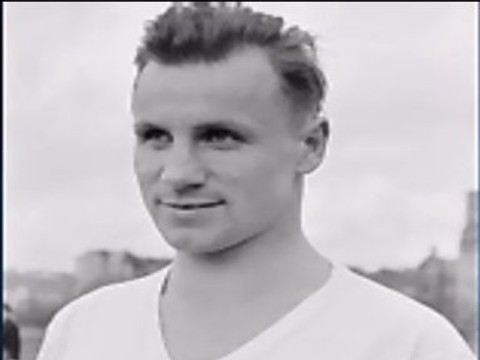 Country:
Poland
Club: KP Legia Warszawa
Position: *
CMF
,
DMF
,
AMF
Side: LF/BS
Age: 27-31 years (25/01/1929)
Height: 170 cm
Weight: 69 kg
Attack:
72
Defence:
75
Balance:
78
Stamina:
87
Top Speed:
81
Acceleration:
83
Response:
81
Agility:
80
Dribble Accuracy:
82
Dribble Speed:
77
Short Pass Accuracy:
84
Short Pass Speed:
78
Long Pass Accuracy:
82
Long Pass Speed:
76
Shot Accuracy:
70
Shot Power:
81
Shot Technique:
70
Free Kick Accuracy:
66
Swerve:
68
Header:
75
Jump:
82
Technique:
84
Aggression:
71
Mentality:
85
Keeper Skills:
50
Team Work:
83
Injury Tolerance:
B
Condition:
5
Weak Foot Accuracy:
6
Weak Foot Frequency:
5
Consistency:
6
Growth Type:
Standard LastingCARDS:
P
20 Talisman
S
08 Passer
SPECIAL ABILITIES:
Playmaking - Passing
Attack / Defence Awareness Card:
Balanced
INFO
Edmund Zientara was the captain of Legia and Poland NT. He was initially a striker but played left wing half position. Very intelligent player and superb tactician, technically gifted and in good condition. Very endurable and mobile, great character and leader in midfield with good work rate. He played 12 years for Legia, from 1950 to 1962. The Legion won the Polish Cup and Polish (both in 1956). He made his debut in the military November 19, 1950 in a match against Lech Poznan. His last game played in the colors of the Legion of April 1, 1962 (from Cracovia). He also played for Polonia Warsaw, Lubliniance, Guard Polonia Warsaw and Melbourne. The colors of the Legion played 169 matches, scoring 3 goals in them. When the team played in the capital measured 170 cm and weighed 69 kg. He is the only man in the Legion, which reached the Polish championship as a player and as a coach. He was honored with admission to the Hall of Fame Legia Warsaw. He was captain of the Polish national team (19 times). He played in the 40 meetings. Among others, participated in the Olympic Games football tournament in Rome (1960), where he played 3 matches. He appeared in the opening game of the famous Camp Nou stadium in Barcelona. Polish national team under the name Team Warsaw Barcelona was 4-2. From season 1972/1973 for 3 years led pursuit of Szczecin. Later he worked Stal Mielec in the mid-70s, earning her such Polish championship in 1976. His pupils were famous footballers, such as Kazimierz Deyna. In 1999 he was awarded the Officer's Cross of the Order of Polonia Restituta Polish. Died on August 7, 2010 and was buried in the Warsaw cemetery Brodnowski.